M&Ds Motherwell theme park fined £65,000 over Tsunami ride crash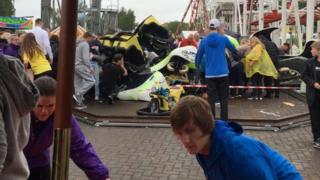 The owners of a Lanarkshire theme park ride which crashed injuring nine people, have been fined £65,000 over health and safety breaches.
Seven children were among the injured at M&Ds in Strathclyde Park in June 2016 when the Tsunami rollercoaster derailed at 40mph.
Five gondolas plunged 30ft to the ground.
M&Ds pleaded guilty to charges relating to the Health and Safety at Work Act at Hamilton Sheriff Court on Friday.
The theme park would have been fined £100,000 but for their guilty plea.
Sheriff Thomas Millar told the court a "place of enjoyment and entertainment" on that day became "a place of terror".
The charge alleged that M&D Leisure had failed to ensure that the rollercoaster was maintained, in efficient working order and in good repair.
It said weld repairs on axles of the passenger cars were inadequate, leading to the failure of the axle suspension on the five-car yellow train.
The car came off the track and fell to the ground "to the danger of the lives of seven children and two adults."
A Health and Safety Executive investigation found that the welding metal and the axle metal were incompatible.
HM Inspector of Safety, Martin McMahon said: "We found nine out of the 10 axles on the Tsunami had been given this weld overlay repair and in the end six of them detached from the ride causing it to crash onto the ground."
After the judgement, Matthew Taylor, a director of M&D's issued a statement.
He said: "My brother Douglas and I have been in business together for more than 50 years and this is the first incident of this type that we've ever been involved in.
"We are devastated as both a family and a business, and our heart goes out to everyone who has been affected by the accident.
"Our customers shape every part of our business and our thoughts have always been with those who were injured and their families.
"We've co-operated fully with the inquiries at every stage to ascertain what caused this accident and how to prevent it happening again in the future.
"Each and every ride within the theme park has always been subject to a daily safety check and annual independent inspection.
"We have now introduced a new, more detailed, maintenance recording system which records any work carried out to ensure that repairs can be traced accurately."
But the father of one of the more seriously hurt children said he was disappointed in the fine.
Outside the court, the man - who can't be named because the crash victims are under 18 - spoke to BBC news.
He said: "For a company bragging a turnover of £8m to be fined £65,000 is disappointing.
"Seeing what my son went through initially and for months and years after, I am bitterly disappointed.
"It's been a hard battle for him and us. When he was in a coma - it was hard to watch our child on a ventilator - and then when he came off it, struggling with his injuries, it was heartbreaking.
"Two years eight months later looking for some sort of justice, I don't think we received that today."
The Health and Safety Executive completed a 15-month investigation into the crash in September 2017.
Several victims have received compensation payouts, while others are still in the process of pursuing claims.
In October 2017, it emerged M&Ds received a £1.4m insurance payout for the closure of the Strathclyde Park site.
Nine passengers, most of them children, were on board the inverted rollercoaster when five gondolas detached from their rails at a bend and fell to the ground.
Among those who were injured were a 12-year-old boy with chest, abdominal and leg injuries and an 11-year-old boy who had serious arm and hand injuries.
The Tsunami, which travelled at up to 40mph through corkscrew turns and loops, never reopened and it was finally dismantled in February 2017.
It emerged that an inspector who passed the ride as safe 16 days before the accident had been subsequently banned.
The theme park was shut for investigations but a partial reopening was sanctioned just four days after the accident.
It was fully reopened to the public just over three weeks later.
Robert McCutcheon was one of the first on the scene after the gondolas crashed to the ground.
A former paramedic, the 31-year-old from Castle Douglas in Dumfries and Galloway, jumped straight into the aftermath.
He told the BBC Scotland news website: "It was a free-for-all. There was no organisation and no response from staff.
"I went under the cars to a young boy who was in a bad way."
Mr McCutcheon stayed with an 11-year-old boy whose wrist was snapped. He plugged the bleeding artery in his arm and immobilised his head.
But he said the scene was chaos with no co-ordination to the initial rescue efforts.
He said: "At one point some parents at the scene started rocking the collapsed ride to try to free other victims, but didn't realise they were putting the boy at further risk.
"Myself and another man, Ian Holmes, stayed there until everyone was taken to hospital."
Mr McCutcheon expected the theme park to be closed almost immediately.
He said: "I am surprised it has taken this long. I would have expected it to be shut down and M&Ds to face severe consequences regarding health and safety and at the very least heavy financial consequences.
"I have never been back."