Weeks-long disruption to Coll, Colonsay and Tiree flights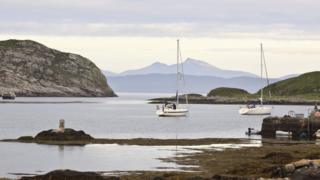 Coll and Colonsay will have no scheduled flights for at least six weeks later this year after a contract for the service was not renewed.
Argyll and Bute Council put the public obligation service (PSO) flights, which connect the isles to Oban, out to tender.
But the local authority said it did not receive any "positive responses" and was unable to award a contract.
Councillor Roddy McCuish said he hoped it would be re-tendered quickly.
More than £1.5m in council funding was made available for the three-year contract.
Additionally, the local authority provides £750,000 annually for the operation of Coll, Colonsay and Oban airports.
The current service, run by Hebridean Air Service, ends on 15 May and following a re-tendering process a new contract could not be awarded before 28 June.
Tiree's flights to Oban are also affected by the situation, but the island would still have flights to Glasgow.
'Vital air services'
Young islanders travelling to high school in Oban and medical professionals are among those who use the PSO service.
Councillors are due to discuss the contract at a meeting on Thursday.
Mr McCuish, a councillor for Oban South and the Isles, said: "We had no positive responses regarding our tender process.
"What I am hoping is that the policy and resources committee on Thursday will agree to get this tender back out as quickly as possible, but this will constitute a break in service."
A council spokeswoman added: "We are actively pursuing a range of potential options to secure a positive future for the vital air services from Oban to the islands of Tiree, Coll and Colonsay following the conclusion of the tender procurement process.
"While an operator for the services could not be secured beyond the current contract, we remain committed to working towards a solution."
A spokesman from Hebridean Air Services said: "For the avoidance of any doubt Hebridean Air Services tendered for the renewal of this service from 16 May 2019 onwards.
"We were advised that the procurement process was abandoned on the grounds that the bids received exceeded the funds that Argyll and Bute Council has assigned to operate the service.
"We are continuing to have a dialogue with Argyll and Bute Council and sincerely hope that an agreement can be reached which means services are not disrupted."