Three men convicted of brutal murder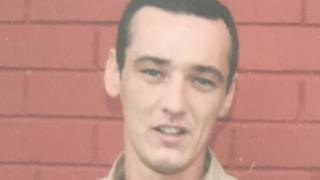 Three men have been convicted of carrying out a brutal murder in the Glasgow home of their victim.
Paul Green, 31, Lee Noonan, 21, and Robbie Brown, 18, attacked James Watt with knives and a golf club in Glasgow's Copland Quadrant.
Green was also convicted of assaulting Mr Watt with a pick axe handle earlier on the same day, 23 February.
At the High Court in Glasgow, judge Lord Summers told them: "This was a vile and brutal crime."
Lord Summers deferred sentence on all three until January.
He added: "There is only sentence I can impose and that is life imprisonment. I have to determine the punishment part which is the minimum sentence you will serve."
The court had heard Green, a ScotRail maintenance worker, went looking for Mr Watt after hearing that he had attacked Green's father.
He enlisted the help of Noonan and Brown, who were strangers to him and had gone out with knives looking for three other men as part of an unrelated dispute.
After the attack, Mr Watt's body was found slumped on his living room floor by his father George, who is a publican.