Lifeline for ailing Loch Lomond paddle steamer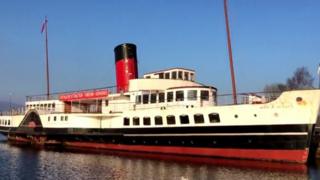 A plan to restore a 65-year-old paddle steamer which once transported tourists across Loch Lomond has received nearly £1m from the Scottish government.
Owners of the Maid of the Loch had feared for its future after a £3.7m lottery funding bid failed earlier this year.
The Loch Lomond Steamship Company (LLSC) said the new cash would be used to repair the ship's hull and engines.
The steamer has been moored at Balloch Pier since 1996.
LLSC chairman John Beveridge said there was now "real hope" around the project.
Maid of the Loch
63m (208 ft) long
1953
Entered service the same year as the Queen's coronation.
1981
Dwindling passenger numbers saw the steamer mothballed.
For nearly 30 years The steamer navigated the waters of Loch Lomond.
He added: "Our next step will see the ship brought out of the water in January on to the Balloch Steam Slipway to allow us to carry out an essential ultrasound test of the entire hull to check its condition. Any repairs will then be carried out."
The Paddle Steamer Preservation Society has also confirmed a grant of £50,000 towards restoring the ship.