Anger at Glasgow Royal Infirmary car parking fees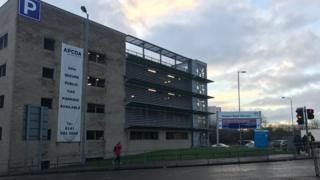 NHS staff at a Scottish hospital are angry at having to pay "unfair" car parking fees of £20-a-day to attend work.
Nurses at the Glasgow Royal Infirmary set up an online petition - which has accrued more than 11,000 signatures - to rally support for lowering the levy.
The car park is one of three in Scotland locked into a PFI arrangement.
The Scottish government says it wants the charges "abolished". The car park owners, Semperian, declined to comment.
Last month Semperian announced it would increase its overnight charge by 10p, from £1.50 to £1.60 per hour.
The rise might appear small, but it was enough to garner a reaction from visitors and staff alike, and they have seized the opportunity to criticise the current £1.70 per hour daily rate at the hospital from 08:00 to 18:00.
Charging for parking at NHS car parks in Scotland was scrapped in 2008, and since then the government estimates it has saved drivers £35m.
But car parks at Ninewells Hospital in Dundee, Edinburgh Royal Infirmary and Glasgow's Royal Infirmary require staff and visitors to pay. This is because they are the result of long-term private finance initiative (PFI) projects.
However, the situation at Glasgow Royal Infirmary is of particular concern as there is no daily capped parking rate, unlike its counterparts at Ninewells and Edinburgh's Royal Infirmary, where parking is topped at £2.40 a day in a long-stay car park, and at £7.20 per day respectively.
Nurse Shelley McCahon, who started the online petition, wrote: "I am aware that we are not likely to get free parking, therefore I wish to campaign for a standard £5 flat rate, to ensure parking is safe and affordable for all."
In an email sent to BBC Scotland by nurses at the hospital, they said: "We don't think £20 a day is a fair rate, we're petitioning for a better fairer rate for staff to allow us to park at our place of work without the financial burden or the worry of having to park in surrounding residential areas."
The car park was built under a PFI which was signed in 2005, and the contract lasts until 2035.
---
What is a private finance initiative?
The Private Finance Initiative was a creation of the Conservative government in the early 1990s - but it has been enthusiastically embraced by Labour.
Governments and local authorities have always paid private contractors to build roads, schools, prisons and hospitals out of tax money.
But in 1992, the Conservatives hit on a way of getting the contractors to foot the bill.
Under PFI, contractors pay for the construction costs and then rent the finished project back to the public sector.
This allows the government to get new hospitals, schools and prisons without raising taxes.
The contractor, for its part, is allowed to keep any cash left over from the design and construction process, in addition to the "rent" money.
However, critics say that the government is just mortgaging the future - and the long-run cost of paying the private sector to run these schemes is more than it would cost the public sector to build them itself.
---
Anne Thomson, a senior officer for the Royal College of Nursing Scotland, said it could be time for the Scottish government to intervene.
She said: "It seems unfair that staff at Glasgow Royal infirmary are still having to pay so much for car parking on this site, when NHS staff in most of the rest of Scotland don't face such high charges.
"But as this car park operates under a long-standing PFI agreement, the decision on the situation rests with Scottish government.
"Perhaps it's time this was reviewed so that staff who use this site, particularly those staff who work night shifts and need to park at the hospital for their own safety so have no choice but to drive, are not forced to pay more just to come to work."
The BBC has spoken to nurses anonymously who say many are parking on residential streets surrounding the hospital, and risking their safety by walking into work sometimes in darkness.
"Prices at the Glasgow Royal Infirmary have steadily increased every year since 2015, it just keeps going up," one said.
'Unnecessary financial burden'
A Scottish government spokesman said: "We agree that charging to park at hospitals puts an unnecessary financial burden on NHS staff as wells as patients and their families
"The Scottish government has made it clear repeatedly that we would like charges abolished at the Glasgow Royal Infirmary car park - as we have done in NHS owned hospitals across Scotland - but unfortunately it is one of three car parks locked into long-term PFI contracts which precede this government.
"We have ensured through the funding mechanisms we use to deliver new projects that charging for hospital car parking is not permitted.
"Health boards are expected to work with their PFI contractors to ensure any charges are kept to a minimum and ensure that PFI contracts are kept under review to ensure best value for the public purse."
An NHS Greater Glasgow and Clyde health board spokesman said: "The purpose-built multi-storey car park at Glasgow Royal Infirmary (GRI) is a PFI project owned by a private company and managed by Apcoa).
"As the car park is privately owned we do not have any control over the tariffs the private company chooses to charge."
Apcoa said it was the car park manager but not the owner, and it did not have any control over fee levels.