Clutha survivor meets rescuer five years on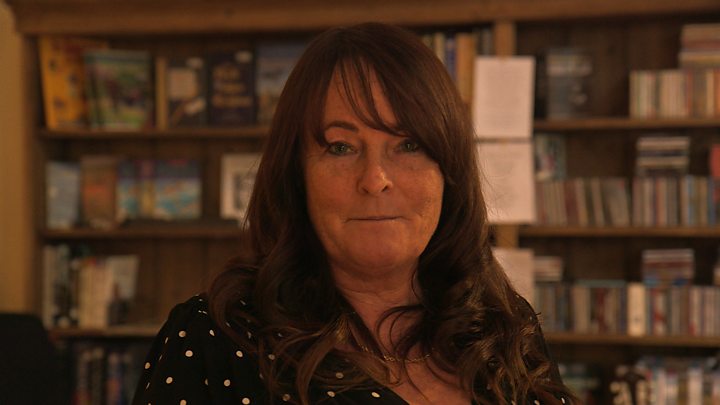 Ann Faulds was pinned against the wall of The Clutha bar when she heard voices calling to check she was alive.
Dust and debris filled the venue moments after a police helicopter plunged through the roof on 9 November, 2013, obscuring her way out.
"I was three feet away from where the helicopter hit, it's a miracle I'm here," she said.
Regaining composure, Ann followed the voices that guided her through gaps in the wreckage, and eventually escaped.
He could have saved me
Five years on, Ann has now met Michael Byrne - a fellow survivor who ran back into the bar to help those left behind.
Having heard his story for the first time, Ann realises Michael could have been one of the brave souls who led her to safety.
Ann said: "I was trapped behind a fella who had been blown on top of me and pinned me against a wall.
"I became aware maybe 10 minutes later of voices, including my sister Nancy who was outside trying to get back in, screaming 'my wee sister is in there'.
"There were people telling me to come forward and crawl. I had to crawl out quite a small space.
"Meeting Michael today and hearing his story I thought he would be one of the voices I could hear."
As they commemorate the fifth anniversary of the Clutha tragedy, Ann and Michael both say they feel fortunate to have survived the crash that killed 10 others.
While Ann was left "black and blue" with injuries after her glass of wine "exploded" in her hand, Michael escaped with no wounds.
"I said to Ann there was almost an invisible line," he said. "On one side there were no physical injuries and everyone to my left had some form of physical injury.
"I had an indelible image in my mind of where everyone was standing. I helped people out the door then stepped back inside and saw two chaps trapped underneath the gantry in the bar.
"Three of us lifted it up and someone dragged out the first chap. I was relieved as I could hear him make a noise so I knew he was alive.
"I ran round to the other side of the bar and that's where Ann was, as I found out today."
Healing process
Ann and Michael's paths crossed last week through The Clutha's charity shop - a bustling new venture which raises funds to help disadvantaged young people get involved in music and the arts.
It is also a place where people visit and volunteer while sharing fond memories of the beloved venue.
Telling their stories has become part of the healing process for many - though some feel they may never fully recover.
Michael said: "To me the injuries are more psychological. I went to work on the Monday morning and pretended I was fine when I wasn't.
"I put a mask on for a considerable amount of time but it was always just below the surface. It wasn't until April 2017 when I was involved in a car crash and hospitalised that my breakdown began.
"The crash and the bang reminded me of the bang in the Clutha, and the devastation and horrendous things Ann and I witnessed.
"Since the Clutha I've had suicidal thoughts - why should I be here when other people aren't? But I'm very thankful for everyone who has helped me."
Ann added: "For me volunteering for the shop is a wee bit of payback for the people of Glasgow that came in to help us that night.
"The shop is about putting back into the community."