'Depraved' cadet leader who abused children jailed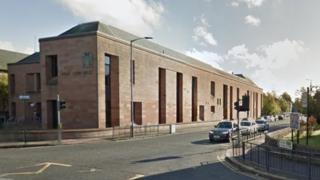 A former air cadet leader, who sexually abused boys under his command, has been jailed for five years.
Ronald Hardman plied youngsters with drink and showed them pornographic magazines before abusing them over a 13-year period.
The 73-year-old selected his victims when they were being fitted for their uniforms at 327 Squadron of the Air Training Corps in Kilmarnock, Ayrshire.
The judge said Hardman was "abhorrent and depraved".
He attacked the boys, aged between 13 and 17, in the officers' mess and when they were alone after making them "feel special", prosecutor Jennifer Thomson said.
Pornographic magazines
Two of the victims, now in their 40s, broke down as they gave evidence describing the incidents and the effect the former ATC senior warrant officer had on their lives.
One former cadet said he was 14 when Hardman let him sit on his lap to drive his car and groped him while he tried to reach the pedals.
Hardman, an ATC instructor for nearly 40 years before leaving in 1998, also gave the boy whisky and showed him pornographic magazines.
He took another victim and his friend swimming then drove them out to the countryside, where they sat in their underwear and Hardman touched the boy's privates.
Hardman, a heating engineer from Kilmarnock, had denied two charges of lewd and libidinous behaviour and two of indecent assault but a jury found him guilty of the offences.
Sheriff Elizabeth McFarlane told Hardman she would have sent him to the high court for sentencing had it not been for deletions to the offences, committed between 1982 and 1995.
'Abhorrent and depraved'
Sheriff McFarlane said: "These offences took place over an extended period of time when you were in charge of these young men's activities in the ATC.
"They had their whole lives ahead of them and I could tell from the evidence they gave that you have destroyed that.
"I suspect nothing I do today can repay those young men for the damage you caused them."
The sheriff described Hardman's conduct as "abhorrent and depraved" and a "flagrant breach of trust".
Noting that Hardman still denied the offences and had no remorse, Sheriff McFarlane added: "I sentence you to a period of five years in prison.
"That's the maximum I can do."
Hardman was also placed on the sex offenders register indefinitely.
'Horrendous crimes'
Det Insp Stephen McCulloch, of Police Scotland, said: "Ronald Hardman used his position of power to abuse these young boys, who should have been safe in his care.
"What he did is unforgiveable and I would like to commend the three victims for their bravery in coming forward and reporting their experiences to the police. Their courage through this entire process was absolutely pivotal to today's outcome.
"I hope that this guilty verdict, and the recognition of the horrendous crimes committed against them as children, will give the victims some closure and allow them to move on with their lives."
He added: "This case sends a clear message to other perpetrators of historical abuse. No matter how long ago your crimes were committed, there is always time for your victims to speak out.
"I would urge anyone who has been a victim of abuse to please come forward and report it to the police. It is never too late and our specialist officers are committed to supporting victims and bringing their abusers to justice."