Ex-Celtic Boys Club coach Torbett to appeal sex abuse conviction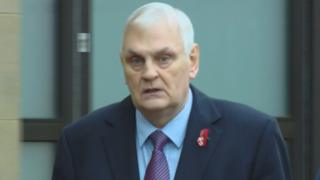 Celtic Boys Club founder Jim Torbett is to appeal his conviction for sexually abusing young players.
Torbett was jailed for six years earlier this month after a judge said he had used the football team as a "recruiting ground" to prey on boys.
Two victims had been in his under-14s football teams, while the third was abused by Torbett at the age of five.
The 71-year-old, from Kelvindale, Glasgow, was found guilty of five abuse charges between 1986 and 1994.
He had denied the charges during a trial at the High Court in Glasgow.
The judiciary office in Edinburgh has confirmed his lawyers have lodged an appeal against both conviction and sentence.
No further court date has been set.