A watchdog finds it was acceptable for a police driver to knock down a knifeman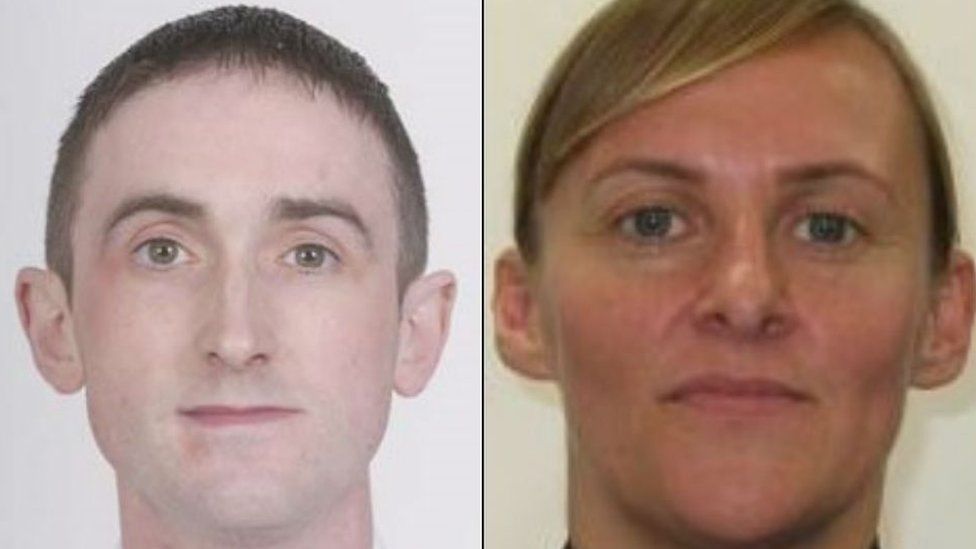 A police officer who used a car to knock down a knifeman after he stabbed two colleagues showed "extreme bravery", a review has found.
A police watchdog backed the officer who took action when William Taylor walked into a Greenock street "armed with a knife" on 1 June.
The wounded officers, Laura Sayer and Kenneth MacKenzie, were also praised.
Police Investigations and Review Commissioner (Pirc) Kate Frame said it was "an extremely difficult situation".
PC MacKenzie has yet to return to duty, however Police Scotland confirmed PC Sayer is back at work in a "non-front facing role".
The two officers were stabbed in the neck, arms and face when they accompanied mental health professionals to the home of William Taylor in Gateside Gardens.
The officers used PAVA spray but to no effect, and the 43-year-old left the property armed with a knife.
Other police officers responding to their wounded colleagues' calls for assistance arrived in a marked police car.
The Pirc report said the officer behind the wheel felt Taylor "presented an immediate risk to the lives of police officers and members of the public."
The report continued: "Due to a lack of any other options available to him, the driver decided to use the police car to hit the man in an attempt to either disarm or incapacitate him.
"The officer stated that he drove the car at low speed and struck the man, who hit the car's bonnet and fell to the ground.
"The man was then seen getting back on his feet and moving towards the driver of the police car, attempting to stab him, before running off again.
"The man was eventually arrested after a short chase."
Taylor received minor injuries when he was knocked down and was later detained for mental health treatment.
The report concluded the stabbed officers and those who came to their aid "displayed professionalism, sound judgement and extreme bravery".
No recommendations were made.
Commissioner Frame added: "I consider that in the circumstances that action was necessary and appropriate and that all the officers involved in this traumatic incident demonstrated extreme bravery and displayed the utmost professionalism in swiftly bringing the incident to an end without any further injuries, either to other officers or members of the public."