Scottish Event Campus lodges £200m expansion plan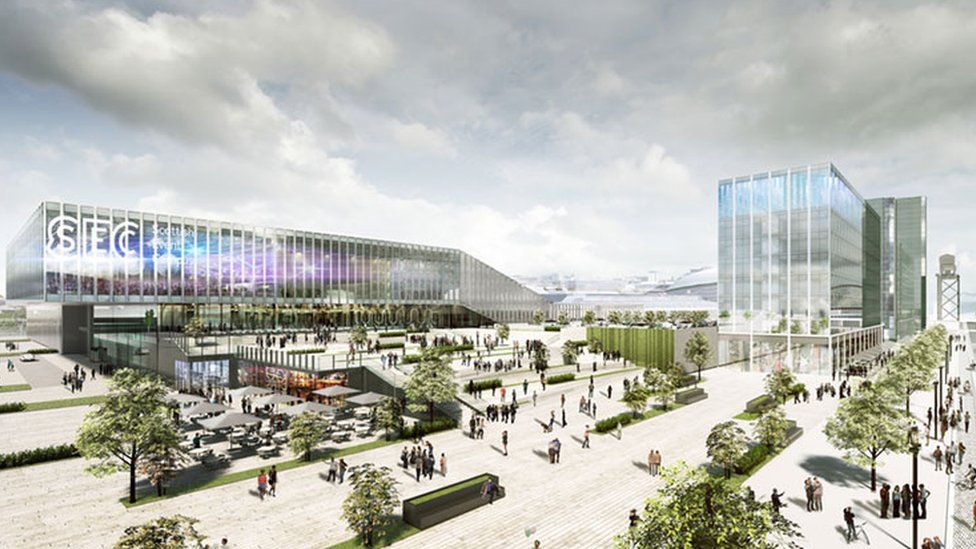 A £200m expansion plan for Scotland's largest events venue has been lodged to create a "world-class" destination for business and culture.
Managers of the Scottish Event Campus (SEC) want to add more meeting areas, outdoor space and a new entrance.
It is said the development could generate £300m for the economy.
SEC finance and development director Billy McFadyen said: "We need to invest in our product to ensure we have the best facilities."
SEC is seeking financial support for the project but said there would be an "economic payback for the taxpayer between five and seven years".
The site already includes the SSE Hydro, the Armadillo and a conference centre - but management say the changes will enable the venue to host "the world's top conferences, exhibitions and events".
It is estimated in a mature year the new facilities would generate £123m of economic benefit to Glasgow, £106m to Scotland and £71m to the UK.
Mr McFadyen added: "The SEC currently offers Glasgow and Scotland a solution to stage conferences of varying sizes. However, competition worldwide is robust and constantly evolving.
"In order to maintain this level of success we need to invest in our product to ensure we have the best facilities. The plans for this expansion will fulfil this and create a truly unique UK event campus which will be world class.
"During the past two decades, Glasgow and the SEC have succeeded in the conference market and strong, city-wide partnerships have been instrumental in securing business.
"It is widely recognised that events drive immediate economic benefit of scale for cities and countries. Conferences and exhibitions in particular provide a catalyst for further long-term economic benefit.
"The focus now is to secure funding support for the project which will be of significant benefit to Glasgow, Scotland and the UK's economy".
Glasgow Chamber of Commerce chief executive Stuart Patrick said: "The SEC constantly secures a stream of major conferences and is an enormous asset to the city, keeping Glasgow firmly on the world stage.
"But in a highly-competitive sector, venues must constantly evolve, and this imaginative planned expansion will help ensure the city's share of the conference and exhibition markets continues to grow."