Boxer Mike Towell 'did not qualify' for CT scan weeks before death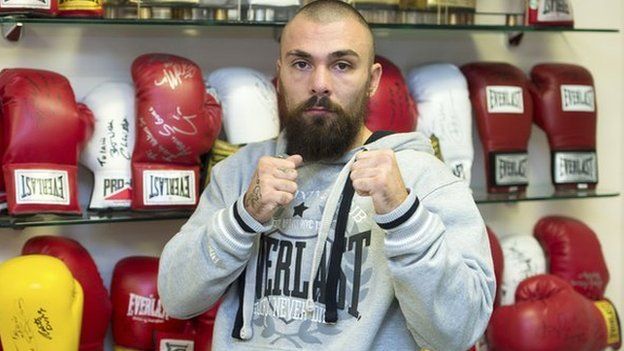 A boxer who "begged" for a head scan weeks before his death did not qualify for the procedure, an inquiry has heard.
Mike Towell was almost referred on for treatment until his doctor heard he had been hit on the head while sparring.
Dr Elizabeth Skelly instead gave him a full clinical assessment and prescribed painkillers to the 25-year-old.
She told a fatal accident inquiry: "I didn't feel that there was any criteria for an emergency CT scan."
The boxer's initial notes detailed he had been suffering headaches for three weeks.
However, Dr Skelly said he "looked well" when he asked for a CT scan on 11 September 2016.
The fighter, from Dundee, collapsed in the ring in Glasgow after losing a bout to Welshman Dale Evans on 29 September 2016.
He died 24 hours later after suffering a bleed in the brain.
Dr Skelly gave evidence at the inquiry into Mr Towell's death at Glasgow Sheriff Court on Tuesday.
The A&E consultant said she saw the boxer with his mother and initially told him that based on the notes of having headaches for three weeks he was suitable for the "redirection process", meaning he would be better treated elsewhere.
She said he told her he had only had headaches for a week-and-a-half but developed pain while sparring during boxing training.
Dr Skelly felt this deemed him unsuitable to be redirected and instead took him for a full neurological examination.
She was asked: "On the basis of your clinical examination you undertook, was there anything concerning in relation to Mr Towell?"
She also noted that he was discharged from Ninewells and referred to a bump on the head, and that he was going to see his GP the next day.
Dr Skelly she was "absolutely certain" she had given verbal and written advice about head injuries.
Douglas Jessiman, representing the doctor at the hearing, asked what she discussed with his mother Tracey Towell.
The witness said Mrs Towell was concerned about previous headaches and asked if he could be suffering from a migraine or a stress headache.
Dr Skelly said she told Mrs Towell she did not think it was a migraine and "didn't fit" being a stress headache.
Mr Jessiman asked: "Looking back on this, are you quite clear your action in deciding not to carry out a CT scan was reasonable?"
The doctor replied: "Yes."
The inquiry also heard that a small bleed in the brain was found in Mr Towell's post-mortem examination.
However, consultant radiologist Dr Gavin Main said a CT scan would not have picked this up two weeks earlier.
Dr Main described the post-mortem findings as "very traumatically abnormal" and said parts of the brain had shifted from where they should be.
The inquiry before Sheriff Principal Craig Turnbull continues.