Rare photos show life in Maryhill Barracks during WW1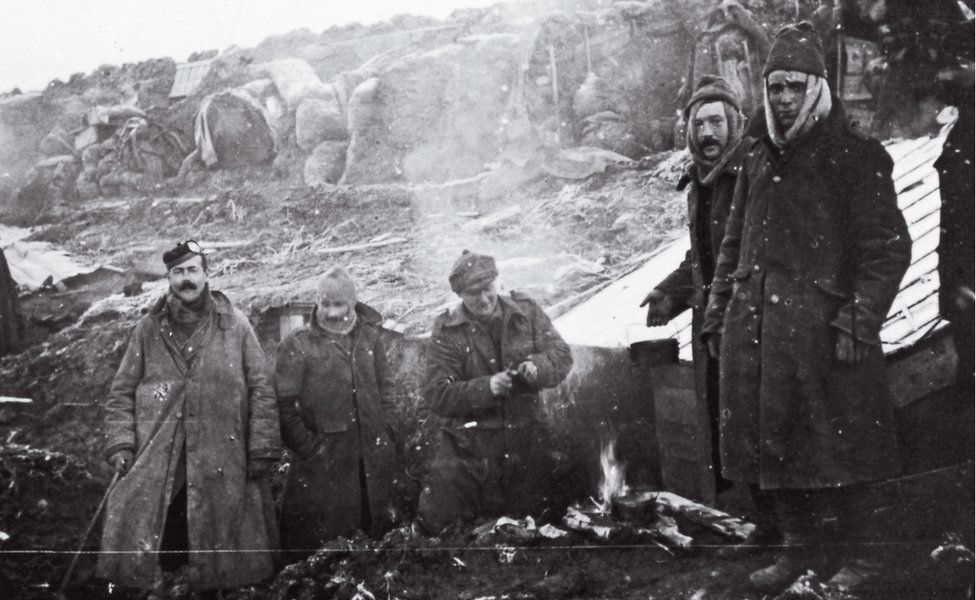 A collection of photographs showing life in a Glasgow barracks during World War One has been rediscovered.
The pictures show action from the front line and daily life at the Maryhill Barracks.
Scottish Medical Officer, Fred Davidson, captured the images whilst serving with the 1st Cameronians.
They have gone on display in Scotland for the the first time in an exhibition at Maryhill Burgh Halls to mark the centenary of the end of World War One.
The photographs, which are said to be among the earliest images of the conflict, were unearthed by Fred's grandson, Andrew Davidson.
He said: "These pictures are special because they show how the barracks, and the soldiers who lived there, were part of life in Maryhill.
"For example, when the battalion left to go to France, the whole community was out on the streets to wave them off."
"Maryhill Barracks was a community in itself, with different regiments stationed there," Mr Davidson added.
"It was home to 1,000 people."
He said: "Fred was one of the few who took photographs of the barracks so these are rare pictures.
"I think he would have been tickled to see his pictures in the exhibition so close to where he was living."
The Maryhill Barracks, which date back to the Victorian era, were decommissioned in the 1960s when the site was given over to social housing.
It is now home to Cube Housing Association's Wyndford estate.
Cube, part of Wheatley Group, and its community partners are supporting the exhibition as part of a wider project, funded by the Heritage Lottery Fund, to explore the history of the area.
Cube director David MacKenzie said: "I am thrilled that Fred's pictures have finally come home.
"They offer a unique glimpse of life at the barracks, which is now home to so many people."
He added: "They really bring the past to life."
Lucy Casot, head of the Heritage Lottery Fund, said: "This extraordinary exhibition will let local people gain a deeper understanding of the impact of the conflict on their community by exploring and sharing their heritage through this fascinating collection of rare and poignant images."
The photographs will be on display at Maryhill Burgh Halls until 31 December 2018.