Woman possibly hit by two cars involved in Glasgow crash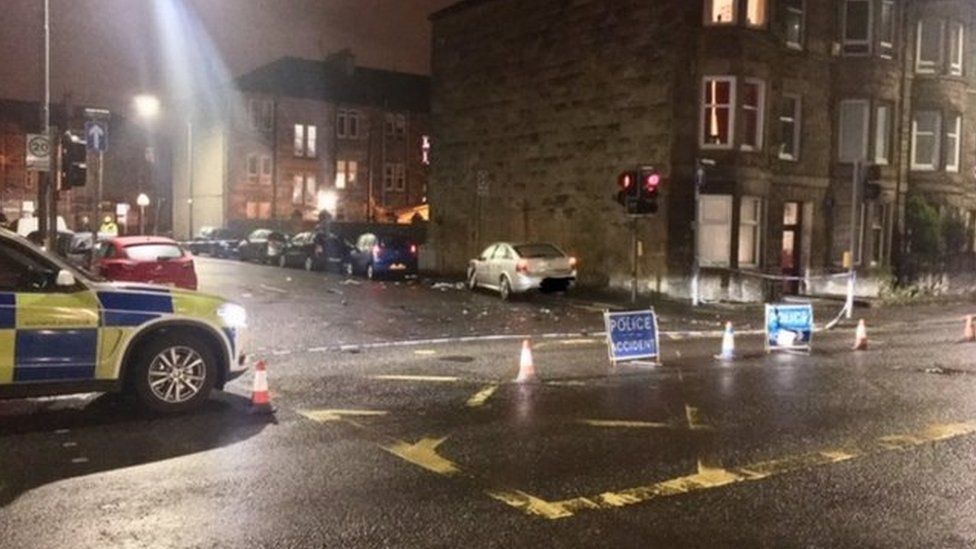 A 55-year-old woman who is in a critical condition following a crash in Glasgow may have been hit by two cars.
Police said the woman was standing behind her parked car on Fulton Street at about 20:10 on Saturday when two cars collided and veered east, with one, or both cars, hitting her.
The silver Vauxhall Vectra and the blue Hyundai collided at the junction of Fulton Street and Bearsden Road.
The woman was taken to hospital with serious injuries.
The 74-year-old female driver of the Hyundai was taken to hospital as a precaution. The driver of the Vectra, a 54-year-old man, was not injured.
Police are appealing for information about the crash.
Sgt Kenneth Canavan said: "Fulton Street at Bearsden Road is a busy traffic light-controlled junction and I would appeal to anyone who saw the crash happen, and who has not already been spoken to by police, to come forward.
"I am also keen to hear from any drivers who were in the area, maybe waiting at the nearby chip shop or at the Shell petrol station, who may have dashcams. Their footage may assist our investigation greatly."
Police said the Vectra had been travelling east on Fulton Street and the Hyundai had been travelling south on Bearsden Road.
Related Internet Links
The BBC is not responsible for the content of external sites.