Officers injured in knife attack honoured for bravery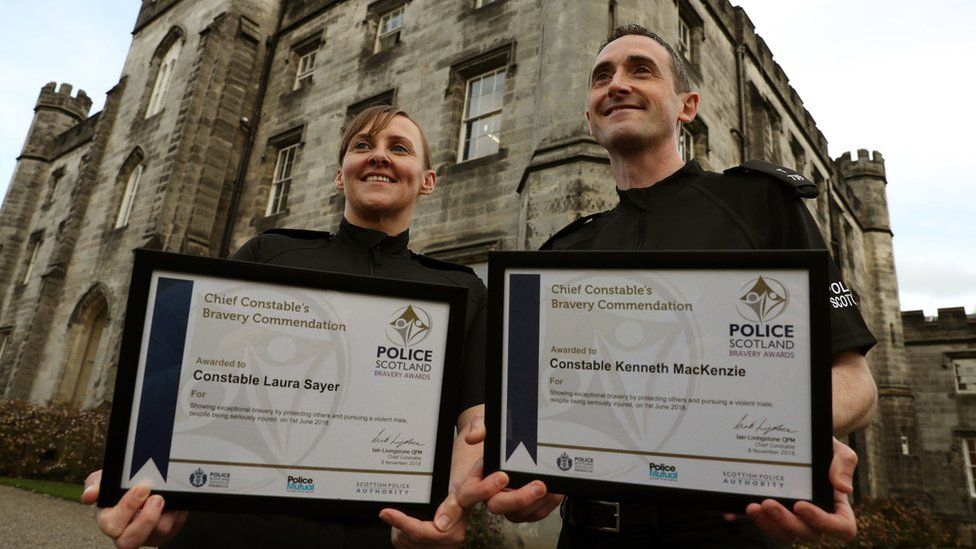 Two police officers who were repeatedly stabbed when they attended an incident in Greenock have been recognised with bravery awards.
PC Laura Sayer and PC Kenneth MacKenzie were attacked after they accompanied a psychiatrist and mental health worker to a flat in Gateside Gardens.
The officers were honoured at the Scottish Police College.
Afterwards they issued a joint statement about their ordeal.
It read: "The incident which we and our colleagues faced on 1 June was extremely challenging and not something that we will easily ever forget.
"We did what all police officers are trained to do and can only thank our colleagues who put themselves in harm's way to help prevent what could have been a far more serious incident.
"Despite the serious injuries we suffered, we both recognise that without the support of fellow officers that day it could have been much worse."
The officers, who have yet to return to duty, added: "The past few months have also been extremely challenging and we have a faced a long road to recovery which has, at times, been very difficult.
"We are very proud to be recognised with this bravery award and to share this moment with the colleagues who helped during the incident.
"Our recovery is going well and we hope to return to work in the near future."
They also thanked the force and fellow officers.
It concluded: "The hundreds of messages of support we received from the public have also been a huge comfort as we recover and we would like to thank everyone for their kind wishes."
PC Sayer and PC MacKenzie were among 64 police officers, two special constables, a member of police staff and 14 members of the public honoured at the Police Scotland Bravery and Meritorious Conduct Awards.
Others recognised included an officer who rescued an elderly couple from their house during the Beast from the East storm and a member of the public who saved a driver from a burning vehicle.
Justice Secretary Humza Yousaf and Scottish Police Authority chair Susan Deacon also attended the event.
Chief Constable Iain Livingstone said: "The Police Scotland Bravery Awards provide us with an opportunity to pause, reflect and admire outstanding acts of bravery displayed by members of the public, police officers and staff who put the protection of others before their own safety.
"These selfless acts of care, courage and professionalism include many instances where immense courage was shown in helping people at their time of greatest need, actions that were often life changing for all involved.
"I am privileged to lead an organisation that serves the public with officers and staff who go above and beyond the call of duty every day, to ensure the safety and protection of others."