Hope of breakthrough in Glasgow equal pay dispute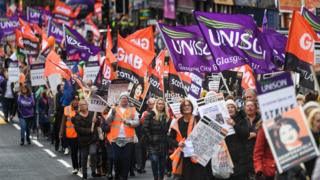 Talks over the equal pay in Glasgow have been "positive and constructive", according to both sides in the dispute.
Union and council leaders met following a two-day strike over claims that women employed by the council had been unfairly treated.
More than 8,000 members of the Unison and GMB union took part, affecting schools and care services.
Refuse collections were also disrupted when workers refused to cross picket lines.
The strike is thought to have been the biggest of its kind over equal pay.
The dispute has its roots in a flawed job evaluation scheme drawn up by the council, then under Labour control, in 2006.
Last year the Court of Session ruled it was unfair to workers in roles such as cleaning or catering, which are predominantly filled by women.
Strike 'unnecessary'
Glasgow City Council has said it had a 30-strong team working full-time on a settlement.
The council said the strike was unnecessary as it hopes to work out the details in the coming months and start paying out in the next financial year.
A spokeswoman for the council described the meeting as "constructive" and said talks would continue.
GMB Scotland organiser Hazel Nolan said: "Today's meeting was positive and constructive. Next week the joint claimant organisations will enter into what we expect will be meaningful negotiations with Glasgow City Council.
"Our members and their families can take great pride that the sacrifice and solidarity they have shown has returned their employer to the negotiating table.
"Equal pay justice hasn't been won today, we still have plenty hard work ahead of us, but we will move forward in good faith and with optimism.
She added: "It is now in everyone's interests to move at pace and deliver fair and full equal pay settlements. That's what our women expect and that's what the city expects."