'Chemo won't stop me pushing my limits'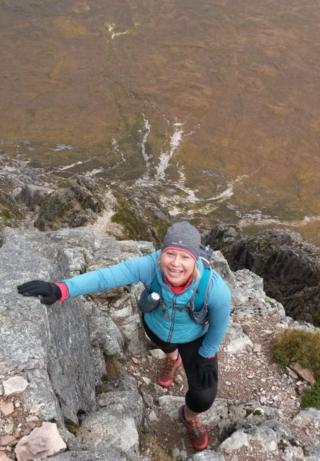 Carol Martin is not an average running enthusiast.
At 50-years-old, she has been running for 17 years, completing more than 30 ultramarathons, including the 95 mile (152km) West Highland Way four times.
Carol, from Bearsden in East Dunbartonshire, was diagnosed with breast cancer in June, and started chemotherapy soon after.
A combination of treatment and a foot injury put an end to long-distance running for the time-being, but has not deterred Carol from staying active and pushing towards her running goal.
"I have big aims for next year. I think it's important to have these goals," the mother of three says.
"Doctors tell you about the side-effects and your head is full of the facts.
"Chemo has got quite a stigma attached to it, you automatically think - I'm going to be sick.
"I think a lot of it is mind over matter."
Doctors encouraged Carol to stay active when she expressed concern around having to stop running.
She says she "detached" herself from potential side-effects, and asked herself how she was "really feeling" in order to push through days when she felt like staying in bed.
"I have got up and gone to the gym or a walk and you do feel better afterwards.
"Being in the fresh air in the hills, you're unlikely to pick up infections.
"That's the sort of thing you worry about because your immunity is low."
Carol returned to running in September - completing a half marathon at Aviemore - although she admits to taking a "run-walk" approach.
'My big aim'
Her ultimate running goal is the Ultra-Trail du Mont-Blanc, a 106 mile (171km) route that treks through France, Italy and Switzerland, with a total elevation gain of about 32,940ft (10,040m). By comparison, Everest is 29,029ft (8,848m).
Carol had been due to take part in the ultramarathon this year, but has asked if it can be deferred following her illness.
"I've been trying to get into that race for three years and I've had to give that up. My big aim is to get back to do that."
With sights on Mont-Blanc, Carol will need to complete events to rebuild the points needed for entry. She has entered the Lakeland 50 in July, a 50-mile route around the lake district.
'No limit'
Although Carol has stayed active, she has had concerns that she would not reach her previous fitness level.
"After further treatment I'll have to let my body recover, but after that I'll try to get back to the level I was at," she says.
"I'm careful the week after chemo, probably not as adventurous. I've been doing the Munros - that's a walk up to 3,000ft.
"If I feel well enough, I don't feel there's a limit on what I've been able to do.
"I think everything feels a bit harder, but that can be because I've lost some fitness with going through my treatment."
It is not just about fitness though, Carol feels a sense of community among long-distance runners and has met most of her closest friends on runs.
"I'm more in the middle of the pack, I approach it as a day out," she adds.
"It's really sociable, when you come across someone you chat.
"I prefer the scenery you get on ultramarathons with them mostly being off road. You see places you would never have seen."
Carol is now waiting to hear if she can get entry into the Ultra-Trail du Mont-Blanc next year.