Police watchdog calls for new home curfew breach law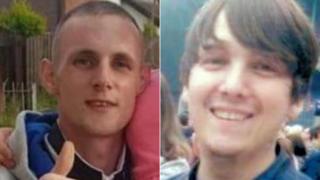 A new law should be introduced to prosecute offenders who breach their curfew, after a father-of-three was murdered in a random street attack.
The police watchdog made the recommendation after examining the murder of Craig McClelland in Paisley.
His killer, James Wright, breached his home release curfew five months earlier and was "unlawfully at large".
A report also called for stricter guidelines on the eligibility of offenders for home detention curfew.
Justice Secretary Humza Yousaf told MSPs he will accept all of the reports' recommendations and will consider creating a new criminal offence.
During sentencing at the High Court in Livingston Lord Matthews said he had "no doubt that questions will be asked" about why Wright had been at large on 23 July last year to commit the "brutal" attack.
In June the then justice secretary Michael Matheson confirmed he had asked Her Majesty's Inspector of Constabulary in Scotland (HMICS) and HM Inspectorate of Prisons for Scotland (HMIPS) to examine the case.
The HMICS report found 44 offenders were "unlawfully at large" on 29 June.
But the status of 38 of them was not recorded on police systems.
And of the total number 24 were unaccounted for for more than four years.
Wright had breached curfew in February 2017 - 10 days after he was released from HMP Low Moss, where he had been serving a 21-month prison term for a knife-related crime.
Despite this he was still free five months later when he approached Mr McClelland in the street and asked him for a light before stabbing him twice.
'Little documented evidence'
HM Chief Inspector Gill Imery offered her condolences to the victim's family in her report, which makes 16 recommendations.
The HMICS investigation discovered that, following the breach of licence, there was "little documented evidence detailing the actions taken by police officers who were later tasked with arresting him and returning him to prison."
Information about any release on home detention curfew and the revocation of licence must be recorded on both the Police National Computer (PNC) and the Scottish Criminal History System (CHS).
The report notes this requires a "timely and accurate" exchange of information between Police Scotland and the SPS.
But at an early stage of the review, HMICS found inconsistencies between the data held by both organisations on offenders "unlawfully at large" and alerted police that the issue required immediate attention.
Offensive weapon
Ms Imery said: "Effective data exchange between the two organisations is fundamental to the successful management of offenders.
"The processes around home detention curfew, revocations and cancellation of revocation notices require to be significantly improved."
The report highlighted that in Scotland it is not a separate offence to remain "unlawfully at large" following recall to prison.
That means if no other offence is committed by the individual who failed to return to custody then they are only required to serve the outstanding part of their sentence.
It also noted that in England factors such as the nature of the conviction can be used to deem an individual unsuitable for home release, even if they are eligible in law.
But this policy consideration, which examines criteria such as the possession of an offensive weapon, does not extend to Scotland.
The HMIP report called for a review of the assessment process and enhanced risk assessment.
It also concluded that recommendations to release individuals should be allocated to a senior manager to provide a second level of assurance".
'Right balance'
Mr Yousaf met with Mr McClelland's family to discuss the reports and the government's response.
He said: "I believe that the actions that the Scottish government, Scottish Prison Service and Police Scotland have all committed to today will provide confidence that there is the right balance between successful reintegration and protecting public safety.
"Indeed, much of what has been identified has already been addressed by the police and prison service over the summer and, as a consequence, the number of people considered unlawfully at large has been brought down to single figures.
"This is only the start of the process. I have made clear I expect real and demonstrable progress and have asked both Inspectorates to review progress in six months time."
Police Scotland and the SPS accepted the report's recommendations.
Ch Supt Garry McEwan said: "The decision as to whether an offender is approved for home detention curfew is not reached by Police Scotland, however, we are committed to working closely with the Scottish Prison Service to ensure enhanced collaboration moving forward."
Mr McEwan said procedures are in place to assess each home detention curfew breaches and he vowed they would be treated as a high priority for local policing.