Clean seas battle goes upstream on the River Clyde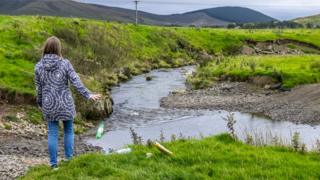 The battle to keep the world's oceans free from plastics and litter starts upstream on rivers like the Clyde, environmentalists have warned.
A new Scottish campaign aims to get people involved in clean-up drives and educate them on the journey that litter takes from "source to sea".
Upstream Battle involves environmental charity Keep Scotland Beautiful and plastics recycling charity RECOUP.
The 18-month campaign is targeting litter pollution along the River Clyde.
It has been backed by Blue Planet cameraman Doug Allan, who is working as an ambassador for the campaign.
Having seen first-hand the impact that marine litter has on wildlife through his work on programmes such as Blue Planet, Dunfermline-born Doug is passionate about raising awareness of this global issue.
He told BBC Scotland that 80% of marine litter starts on land: "It gets washed into rivers through drains and simply blows in through people discarding it.
"As a nation we need to reconnect with the natural world and just think about how our actions directly impinge on the natural world that we depend upon."
He added: "It's really nice to see these two charities getting right to the heart of the problem."
The European Commission estimates that 80% of marine waste originates from irresponsible disposal onshore.
The Upstream Battle campaign will focus on improving conditions along the entire length of the River Clyde, from its source in the Lowther Hills in the south of Scotland, to Helensburgh and Greenock at the mouth of the Firth of Clyde.
It will also include its tributaries, such as the rivers Kelvin, Leven, Avon, the White and Black Cart, and the Forth and Clyde Canal.
Upstream Battle is the first "source to sea" campaign of its kind in Scotland and will bring together three main initiatives which focus on raising awareness and inspiring action.
The campaign aims to work with groups along the Clyde Valley to encourage community engagement and to educate people about the marine litter problem and how to keep the Clyde clean.
It will also launch a "citizen science" project to encourage locals in the Clyde Valley to clean up and identify the litter along the banks of their local river.
Upstream Battle will also work with primary schools to educate young people about how litter makes its way from their playground into the Clyde.
Young people will be recruited as ambassadors to report on issues and the solutions through videos, photos and blogs.
Environment Secretary Roseanna Cunningham said: "Programmes like Blue Planet have made us all more aware of the damage that marine litter causes but it is important to remember that much of this originates on land.
"We are all proud of Scotland's rivers, lochs and seas but it is vital that we protect them from litter and so I am delighted that Keep Scotland Beautiful and RECOUP are taking action to address this."