Man convicted of raping eight women over period of 13 years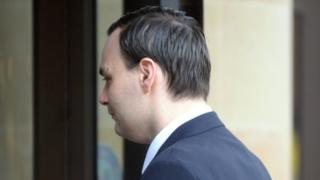 A man has been convicted of raping eight women over a period of 13 years.
Graeme Brown's victims, including ex-lovers and casual partners, gave evidence against him at the High Court in Glasgow.
The court also heard they challenged Brown on social media about his behaviour.
The jury returned guilty verdicts for 12 rapes and three indecent assaults on a total of nine victims, between February 2003 and July 2016.
Brown, 32, from Inchinnan Road, Renfrew, stared at those women who were in court to hear the outcome as he was led away from the dock.
'Difficult circumstances'
The jury deliberated for a week before returning its verdict.
Judge Tom Hughes told Brown: "As you are well aware, the jury have taken some considerable time to go through all of the evidence in this case and they have returned a very discerning decision against you in relation to these matters."
He noted some of the witnesses were in court and said "I think it's appropriate to pay tribute to the fact in very difficult circumstances they have come to court and they have given their evidence in a very dignified way."
The judge added that Brown may expect to be in custody for "some considerable period of time".
The court heard from the victims about the various attacks he subjected them to in parts of Erskine, Linwood and Paisley.
Held captive
One woman recalled being held captive in Brown's home over three days and being raped during that time.
She said he presented a gun at her while she was there, and that she escaped when a friend came to the house to rescue her.
In a joint minute read to the court it was heard what was described as a gun was a cigarette lighter.
Another witness told how they had consensual sex but she changed their mind during it. The woman told Brown to stop but he didn't.
The court heard he was later challenged on Facebook but claimed not to know that he was supposed to have stopped.
A man also gave evidence that Brown indecently assaulted him during a sexual encounter with him and another woman.
'Horrific abuse'
Det Insp Louise Harvie, of the rape investigation unit, said: "Brown is a despicable individual who preyed on his victims in Glasgow, Paisley and Erskine between 2006 and 2015, subjecting them to the most horrific abuse that will stay with them for the rest of their lives.
"Despite the terrifying ordeal that he subjected them to, they have had the courage to speak out about what happened to them and their information has been crucial to this investigation.
"I would like to thank them for their bravery in what must have been a daunting task to report him to police and then to have the courage to provide their evidence in court."
Brown, who has no previous convictions, will be sentenced next month.