Man 'unusually calm' after stabbing two police officers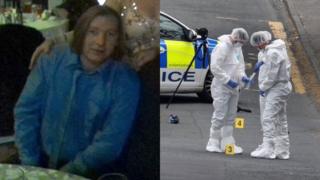 A man who repeatedly stabbed two police officers has been detained for mental health treatment.
A court heard William Taylor, 43, appeared "remarkably calm" after he attacked PCs Kenneth MacKenzie and Laura Sayer in Greenock on 1 June.
Defence QC Gordon Jackson tendered a not guilty plea to attempted murder charges on the basis of his client's mental state.
The judge imposed a compulsion order meaning he will receive more treatment.
The High Court in Glasgow heard Taylor repeatedly stabbed the officers after they accompanied a psychiatrist and mental health worker to his flat in Gateside Gardens.
Taylor had been in contact with mental health services since 1986 and earlier this year was prescribed medication following a diagnosis of schizophrenia.
Two days before the attack, Taylor's parents visited him and found unopened medication. The flat was unusually untidy and he did not appear well.
After raising their concerns, a mental health worker visited Taylor and recommended that he be admitted to hospital.
The police officers went to his home on 1 June with mental health officer Angela Douglas and consultant psychiatrist Rajitha Jayawardena as it was felt Taylor may have to be restrained.
Advocate depute Martin Richardson QC said, after a delay, Taylor opened the door and Ms Douglas told him they wanted to talk to him.
"The accused then attempted to close the door. Constable MacKenzie put his foot in the door to prevent this and repeated that they would need to come in and speak to him," said Mr Richardson.
They followed Taylor into the flat where he appeared "very disgruntled and angry" and said he was "not mental".
He was told if he did not go voluntarily to hospital, he would be detained.
'Frantic' attack
Mr Richardson continued "At this, the accused jumped up from the sofa, pulled a knife out of the back of his trousers and lunged at Constable MacKenzie.
"He repeatedly struck Constable MacKenzie on the head with his left hand.
"As a result, Constable MacKenzie fell back on to the sofa."
PC Sayer grabbed Taylor's arm but Taylor broke free and charged at her colleague again.
He pushed him into the kitchen and over the worktop and repeatedly struck the 43-year-old officer in the chest with the knife.
The court heard Taylor "appeared frantic", and PC Sayer used her incapacitant spray on him but it had no effect.
She left the flat to get Taylor away from her colleague and he followed her to the ground floor where he backed her into a wall and stabbed her repeatedly on the chest.
PC Mackenzie went to her aid, but was himself attacked again while his colleague radioed for help.
Taylor later walked out outside with the knife above his head and asked neighbours: "Do you want some of this?"
The court heard he removed his T-shirt and "appeared unusually calm" as he made his way towards a police car that had arrived on the street.
Taylor was struck by the police car, smashing the windscreen but ran off and was finally detained by officers who caught up with him.
When informed he was under arrest, he replied: "I'm sorry."
Officers commended
Judge Lord Burns acquitted Taylor of the attempted murder charge and imposed the compulsion order.
He said: "It remains for me to commend the police officers here, in particular Constable MacKenzie and Constable Sayer for the action they took."
PC MacKenzie sustained a wound on the left of his neck, a cut on his nose and right jawbone.
PC Sayer had surgery on her left upper arm, and a 12cm wound divided a nerve on her forearm.
She also suffered a cut on her right hand.
Mr Richardson said: "Both Constable MacKenzie, who had nine years police service, and Constable Sayer, who had only five and a half months service, have remained off work following the incident.
"It is unclear whether either officer will be able to return toward in the immediate future."