'Urgent work' planned for People's Palace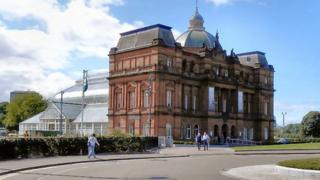 Urgent work is under way to try to make sure the People's Palace museum in Glasgow can stay open.
It joins on to the Winter Gardens which will shut at the end of the year because of safety concerns.
The gardens are used as a fire escape for the People's Palace.
Glasgow City Council says staff are working on how to ensure this does not lead to any lengthy closure. Options are expected to be presented to councillors within weeks.
Glasgow City Council's convenor for health and social care Mhairi Hunter told her followers on Twitter that a structural engineering report found that both the glass and the structure need to be replaced.
She said she did not know whether this was down to neglect or because there was "a shelf life" for glasshouse structures.
She added: "What we do know is that council officers are currently working on a plan to create a new fire exit in the People's Palace so that it can remain open."
The Winter Gardens need at least £5m worth of work to make the structure safe. They will close indefinitely in December.
BBC Scotland understands that there is a risk that the People's Palace museum could have to close for a short period until any necessary measures are put in place or while work is carried out.
There is, however, no suggestion that it would be closed permanently and as things stand it is highly unlikely that it would be closed by next year's tourist season.
The museum tells the story of Glasgow and its people from the 18th Century to the present day.
Its exhibits and displays range from Billy Connolly's famous banana boots and a reconstruction of a tenement home to the struggle for votes for woman and the campaign against the poll tax.
The council says it aims to secure a sustainable, long-term future for the Winter Gardens.