Record label organises raves to raise mental health awareness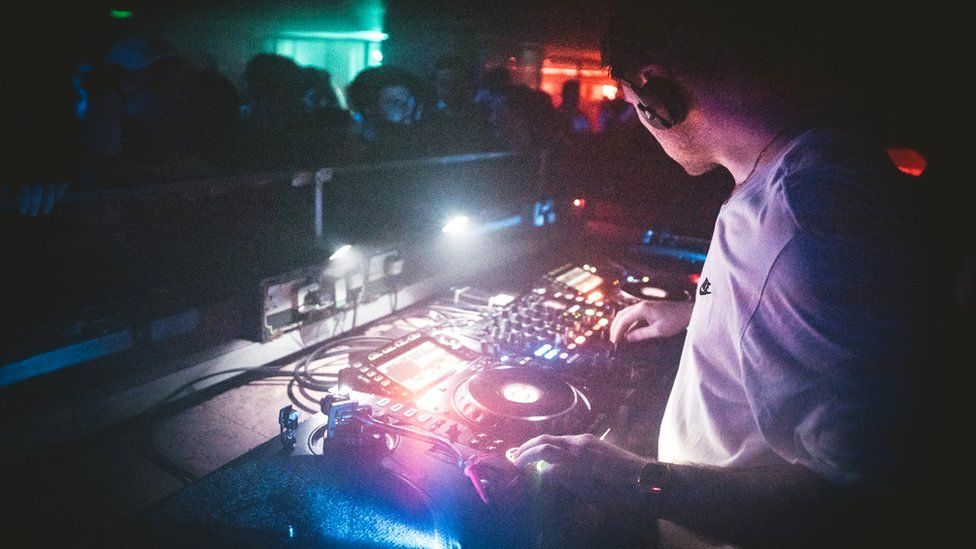 A Scottish record label is throwing a series of raves around Scotland to raise awareness of male suicide.
Eyeangle Records decided to organise "Choose Life" parties after a friend of Kealin Lennon, one of the resident DJs, took his own life.
It was a huge blow to the DJ as the news came "completely out of the blue".
Now the label wants to encourage people to seek help for mental illness, and to raise money for the Scottish Association for Mental Health (SAMH).
They will donate all profits from the events to the charity.
Mr Lennon approached Liam Docherty, the director of Eyeangle Records, after learning about his friend's death.
He was determined to help others in similar situations to his friend.
The pair began to organise a series of events in the hope of encouraging those with suicidal thoughts to "choose life", and to normalise open conversations about mental illness.
Mr Docherty said: "Talking is one of the most important steps a sufferer can take."
He added: "I'd like to think that if anyone is suffering, even if we don't know each other that well, I'd be approachable enough for someone to feel they can talk to me about it.
"All it takes is someone to have the courage to say, 'I need help'."
Suicide: The biggest killer of young men in the UK
In 2017, around three-quarters of all suicides in Great Britain were male.
A total of 680 people killed themselves in Scotland in 2017, a rate of 12.5 per 100,000.
This is largely unchanged over the past four years, but represents a 20% reduction over a 15-year period.
Studies suggest that those that work within the music industry may be particularly susceptible to experiencing mental illness due to anti-social working hours, exhaustion and an inability to plan their time.
International Men's Day, which takes place on 19 November, aims to help male sufferers of mental illness and raises awareness of issues that men face everyday, such as mental health, toxic masculinity and male suicide.
With suicide continuing to be the biggest killer of men aged under 45 in the UK, men are encouraged to overcome their reluctance to talk about their problems.
This year, the Choose Life raves have already been held in Glasgow, Aberdeen and Dundee, with one more set to take place in Edinburgh in December.
Eyeangle Records aim to continue raising awareness by organising more raves next year across Scotland and by expanding into England.
With £1,650 raised so far, all of the money will be donated to the SAMH to raise awareness, educate and help fight against mental health illness in Scotland.
The label is also taking submissions for tracks to add to a "Choose Life" album, with the proceeds also being donated to charity.
In the future, Mr Docherty hopes to set up his own charity through Eyeangle Records. This would include organising music therapy classes aimed at helping those with anxiety.
He said: "The cause really means a lot to us. As DJs, you feel lot of pressure, especially if you're doing it full time or trying to do it full time.
"The majority of us at Eyeangle Records have full time jobs outside of DJing, and it can sometimes be hard to juggle both.
"You can get sucked into the cycle of not feeling great, especially if things aren't going the way you want them to."
If you have been affected by any of the issues in this story, you can find help at BBC Advice. For details of organisations which offer advice and support, click here. In the UK you can call for free, at any time, to hear recorded information on 0800 066 066.
Related Internet Links
The BBC is not responsible for the content of external sites.