Engineers close to securing Rest and Be Thankful boulders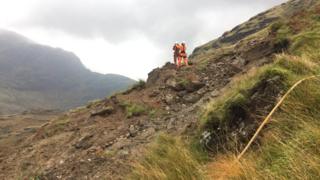 Engineers have secured the second of three large boulders which were exposed in landslips above the A83 at the Rest and Be Thankful in Argyll.
The safety work involves using hydraulic gear to drill into the rocks and break them into smaller pieces.
The largest boulder, which is 300m above the roadside, was estimated to weigh about 75 tonnes.
A 60-mile diversion has been in place since Tuesday and the A83 and Old Military Road remain closed.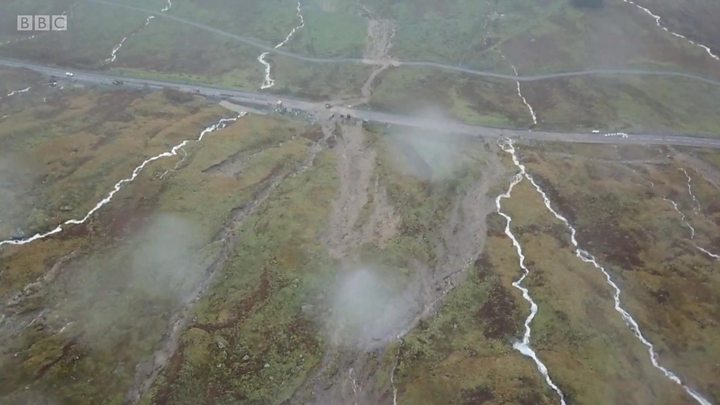 Bear Scotland said more than 2,500 tonnes of landslide debris reached the catch-fences above the carriageway during severe weather in the area.
Aerial assessments using helicopters have allowed geotechnical engineers to fully investigate the hillside and the scale of the landslips.
Tommy Deans, Bear Scotland's north west network manager, confirmed work on securing the third boulder is now under way.
Once it is made safe a final safety check will take place before preparing the Old Military Road for opening.
Removing the debris
He said: "Teams have worked tirelessly on the hillside today above the A83 to do all they can to make safe the boulders on the route, with work on the third boulder almost complete.
"Safety remains our top priority, and although we have prepared the Old Military Road so it is ready to open we can only do so once the go-ahead is given from the geotechnical assessment.
"That said, we remain hopeful that teams will be able to achieve this sometime tomorrow ahead of the weekend."
Mr Deans said "everything possible" is being done to get the Old Military Road open.
He added: "We encourage road users to follow the diversion route via Dalmally in the meantime, and to plan ahead by checking the Traffic Scotland website for up to date journey information."
Economic problems
Local SNP MP Brendan O'Hara has called on the Scottish government to provide more investment to tackle the transport and economic problems surrounding the A83.
Mr O'Hara said: "Closures of the A83 leads to untenable diversions and rerouting of traffic onto other roads which are simply not designed to withstand these volumes of traffic.
"A solution to infrastructure investment to stem the flow of people and investment from the west coast must be found as a matter of urgency.
"The rural west of Scotland had suffered decades of underinvestment and depopulation and while I'm extremely grateful for the work the Scottish government have done thus far at the Rest and Be Thankful, we need a permanent solution and that means investment."