Missing woman Margaret Fleming 'went away with a traveller'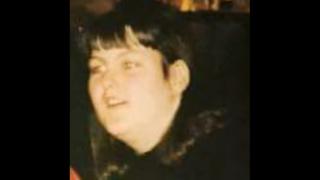 A court has heard a woman prosecutors believe was murdered more than 18 years ago had " gone away with a traveller".
Florence Jones, the mother of Avril Jones, who is accused of killing Margaret Fleming, said her daughter told her Margaret left on 5 January 2000.
Margaret had been living with Avril Jones and Eddie Cairney at their home in Renfrewshire.
Florence Jones said she last saw Margaret on 31 March 1999.
Mrs Jones, 78, from Inverkip said her daughter Avril told her Margaret would come back occasionally over the years to get money.
'Business partners'
She said Avril Jones told her she had authority to lift Margaret's money as Margaret wasn't capable of doing this.
Mrs Jones, who described Eddie Cairney and Avril Jones as "business partners", told the court police came to her door on 28 October, 2016.
She added: "They said they were making inquiries about the girl that had been living with Eddie Cairney and and Avril Jones and I said she hasn't been living there for years."
Mrs Jones said her daughter told her the police investigation was sparked after Department of Works and Pensions officials came to the door looking for Margaret.
She said that, according to Avril, Margaret ran out the back door of the house when police officers arrived at Seacroft, Inverkip, and started shouting her name.
'Quite bubbly'
Earlier at the High Court in Glasgow, the jury heard Ms Jones and Mr Cairney had been named as her carers in her late father's will.
Jean McSherry, 66, had been due to marry Margaret's father but he died from cancer in October 1995 when Margaret was 14 years old.
She said Mr Fleming had written a will in which he said Eddie Cairney and Avril Jones were to be her carers.
Ms McSherry, who is from Shettleston in Glasgow, said she had not been pleased about this.
Ms McSherry said Margaret's father's death had hit Margaret very hard and she had continued to see her while she lived at her grandparent's house immediately after his death.
She said that once Margaret had gone to live with Mr Cairney and Ms Jones she tried to keep in contact with her but she said Mr Cairney told her it was nothing to do with her.
She said she got on with Margaret "actually quite well" and "found her quite bubbly" when she got to know her.
Jean McSherry then told the trial she wanted to continue having a relationship with Margaret Fleming after her father died.
She said before Derek Fleming died they had been planning to get married, get a house and live together as a family.
Asked if Margaret was happy with that, Ms McSherry replied yes.
She said she did not think Eddie Cairney and Avril Jones were the right sort of people to look after Margaret.
Eddie Cairney and Avril Jones deny murdering Margaret sometime between December 1999 and January 2000 and pretending she was alive so they could continue to claim her state benefits.
The trial continues.