Margaret Fleming trial: Mother 'attacked' when she last saw daughter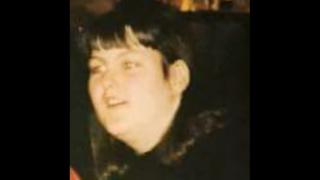 The mother of missing Margaret Fleming has told a jury she was attacked by her daughter's carer when she tried to bring her home more than 20 years ago.
Margaret Cruickshanks, 71, said Eddie Cairney throttled her and spat on her at his home in Inverkip, Inverclyde.
Mr Cairney, 76, and Avril Jones, 58, are charged with murdering Ms Fleming between December 1999 and January 2000.
They are also accused of obtaining £180,000 in benefits intended for Ms Fleming, knowing she was dead.
Both deny all the charges at the High Court in Glasgow.
The court heard how Ms Cruickshanks agreed for Ms Fleming to move in with Mr Cairney and Ms Jones in 1997 after they offered to provide "respite care".
'Pushed to the ground'
Ms Cruickshanks said she later went to the house to collect 17-year-old Margaret on 26 November 1997.
She told the court: "I went to bring my daughter home but they would not let me take her home."
Ms Cruikshanks said Eddie Cairney pushed her against a wardrobe, throttled her, spat on her and pushed her to the ground.
He then asked Ms Fleming, who did not witness the alleged assault, where she wanted to live.
No contact
The teenager indicated she wanted to stay at Mr Cairney's home, Seacroft.
Ms Cruikshanks said she never saw her daughter again, apart from a possible sighting at a Morrison's supermarket in Greenock.
Asked what her feelings were as the months of no contact turned into years, she said: "I actually thought she was getting on with her life and enjoying herself in every way possible.
"I never thought the likes of this would happen."
Thomas Ross QC, representing Mr Cairney, suggested to Ms Cruickshanks that she had been shouting and swearing and had spat on Mr Cairney during the alleged assault.
Ms Cruickshanks denied doing so.
Mr Ross also told the court that 23 separate people contacted police to say they might have seen Margaret Fleming after officers put up posters around the area as part of the police inquiry which began in 2016.
Earlier in her evidence, Ms Cruickshanks revealed that Margaret had a temper and said: "She took all her anger out on me."
Christmas gift
She said that when Mr Cairney and Ms Jones, who were friends of her late ex-husband Derek Fleming, volunteered to take Margaret for a week at a time, she accepted their help.
The court heard that Ms Cruickshanks sent a Christmas gift to her daughter shortly after she moved in with the couple.
It was returned with a hand-written note asking her to collect the present or it would be donated to a charity shop.
The court later heard Ms Cruickshanks was in contact with Inverclyde Council's social work department about her daughter's behaviour in October 1995, days before Mr Fleming died of cancer.
'Violent and aggressive'
The jury was told Margaret had been "violent and aggressive" while living with her grandparents.
A subsequent social work report noted Ms Cruickshanks hoped staff would be able to take Margaret to a children's home to "give her a fright" or a police station to "let her have a look around".
Ms Fleming was officially reported missing in October 2016. No body has been found.
The trial, before Lord Matthews, continues.