Man guilty of murdering Ayr restaurant manager in 1993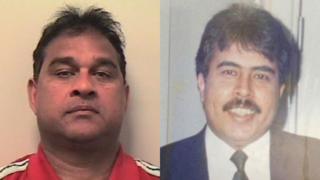 A 51-year-old man has been found guilty of murdering a restaurant manager in a car park in Ayr 25 years ago.
Jagtar Singh carried out a "sustained and merciless" attack on Ansar Shah outside the Armaan Restaurant on 4 October, 1993.
He was convicted following a trial at the High Court in Glasgow.
Judge Lord Beckett sentenced father-of-four Singh to life imprisonment and ordered him to spend at least 17 years in prison.
Lord Beckett said: "You arrived at the scene equipped with a large knife and ready to do violence.
"You stabbed Mr Shah three times in the chest. You inflicted wounds which he could not have survived.
"You fled the scene and fled the country and managed to escape justice for almost 25 years.
"Mr Shah lost his life and his family, whom he was supporting, lost him forever."
'Bad blood'
The court heard one of Mr Shah's daughters was born a month after his death and never knew her father.
Singh - who was from Slough and was known as Tony - had claimed he was knifed by Mr Shah and wrestled the weapon from him, before stabbing him once.
The court heard the accused, his brother and a friend travelled to the restaurant after midnight to talk about a dispute between them and the restaurant staff.
A fight broke out involving staff from the restaurant and Singh and his brother Jaspal Singh, 54, from Slough, Berkshire, and their friend Balwant Singh, 59, from Dalmellinton, Ayrshire.
There was said to be ill feeling between the two groups because the Armaan workers suspected that Jaspal Singh had reported one of them to immigration authorities.
Singh stabbed Mr Shah three times. Two of the wounds went through his heart and a third cut into his left lung. Neither of the wounds to the heart was survivable.
Within hours, Singh was on a bus to London and weeks later he was smuggled into France in the back of a vehicle.
Once in Roman-sur-Aixere in France he built a new life for himself. He married a French woman in 1996 and had a son with her.
They then divorced and he was married again in India in 2001. He and his second wife have three daughters.
'Cowardly individual'
Det Insp Mark Henderson, the senior investigating officer, said Singh thought he had evaded justice for almost quarter of a century.
He said: "This cowardly individual did everything he could to try to escape the consequences of his actions.
"He fled to England the following morning and later set up a new life in France, before being arrested in Germany in November 2017 on a European Arrest Warrant and brought back to Scotland to face justice."
Det Insp Henderson said law enforcement partners in Scotland and across Europe worked on the case, while the operation was co-ordinated from the Scottish Crime Campus in Gartcosh, North Lanarkshire.
He added: "We hope that after almost 25 years of anguish and suffering, the Shah family who have always acted with dignity are able to try to take some comfort from the fact that the man responsible is now behind bars and they have the answers they have been looking for, for all those years.
"Police Scotland remains committed to pursuing those responsible for the most serious crimes including murder, regardless of how long ago it took place and regardless of geography."