Murder victim's sister in appeal over Gartness shooting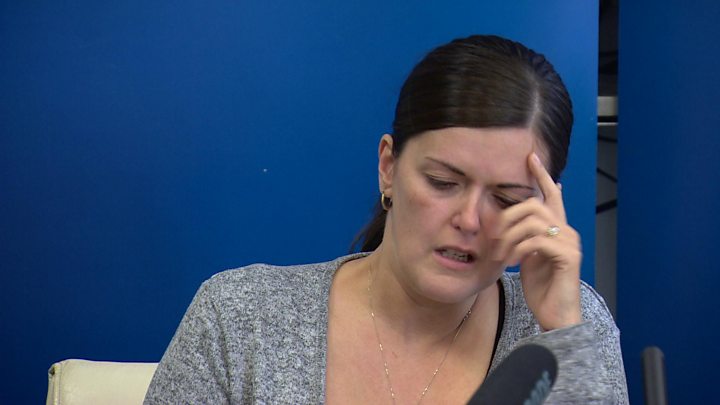 The sister of a man who was shot dead in a drive-by attack outside his flat has made an emotional public appeal to help find his killer.
Up to 10 shots were fired at Gary More, 32, in Gartness, North Lanarkshire, on Thursday 6 September.
The father-of-two, who had addiction issues in the past, was pronounced dead at the scene.
His sister Lynsey More said: "Life for us will never be the same again without Gary in it."
The gunman escaped in a stolen white Skoda which was later found burnt-out to the north of Glasgow.
The targeted shooting happened at about 20:10 when several people, including children, were in the area.
However, detectives said they had not received any phone calls from the public about the murder in the week since Mr More was killed.
On Thursday evening, exactly week on from the murder, police revisited the scene of the shooting.
Det Supt Allan Burton said: "It is vital that we speak to anyone who may have been in the vicinity of Gartness Drive last Thursday night.
"The aim of this operation is to speak to pedestrians and motorists who perhaps visit these areas, or use these routes on a regular basis around this particular time.
"Hopefully we can jog their memories into remembering something they may have seen or heard which could assist our investigation."
Officers also carried out a similar operation near to where the stolen car was recovered, about 20 miles away, on Craigmaddie Road in the north of Glasgow.
Mr More's elder sister Lynsey earlier read out a statement at a police news conference in Motherwell.
She said the shooting had been devastating for the family of Mr More, who had battled personal problems in recent years.
She said: "Addiction touches so many families and ours is no different.
"Gary was dealing with his own issues and helping others at the same time.
"He used fitness as a way to help him through some difficult times and he encouraged and helped other people to do the same."
Ms More said her brother had made "a lot of progress" recently and was focusing on running his own fitness classes at his gym.
She added: "He was my wee brother. I was his big sister.
"I always felt that it was my job to look after him.
"I was at one of his yoga classes on Tuesday night, never knowing that the next time I would see him he would be dying in my arms."
The statement concluded: "I pray, I honestly pray, that no other family has to go through this experience.
"Unfortunately things like this seem to be happening more and more.
"We always sit thinking 'it is never going to happen to us'.
"Please don't let another family suffer the way we have. If you know anything please, please tell the police."
Police have said Mr More was the intended target of the shooting.