Jury urged to convict man accused of 1993 murder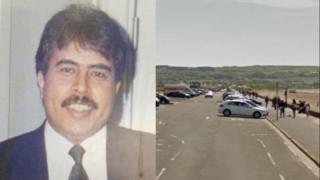 A prosecutor has urged jurors to convict a father-of-four of the murder of a restaurant manager in South Ayrshire 25 years ago.
Jagtar Singh denies killing Ansar Shah, 38, in the car park of the Armaan Restaurant in Ayr on 4 October, 1993.
Prosecutor Richard Goddard described the stabbing of Mr Shah as "sustained and merciless".
But Mr Singh claims he was knifed by Mr Shah and wrestled the weapon from him, before stabbing him once.
The court has heard the accused, his brother and a friend travelled to the restaurant after midnight to talk about a dispute between them and the restaurant staff.
Fatal injuries
A fight broke out and when it ended Mr Shah was lying dead in the car park.
Mr Goddard said: "Eyewitness Sonya Higgins says she saw Jagtar Singh with a knife run towards Mr Shah and stab him more than once on his left chest.
"She said 'He just fell to the ground."
Mr Singh denied killing Mr Shah and insisted his fatal injuries must have been caused by someone else.
Mr Goddard told the jury that no one saw Mr Shah stabbing Mr Singh.
He told the court: "Jagtar Singh claims he only stabbed Mr Shah once.
"For that to be true an unidentified person has gone over to Mr Shah and stabbed him in the same part of the body and managed to do that without having been seen by anyone."
He added: "The right thing to do in this case is to convict Jagtar Singh of the murder of Ansar Shah and that is what I invite you to do."
'Unsatisfactory and contradictory'
Defence QC Thomas Ross told jurors they should acquit Jagtar Singh - known as Tony - of murder.
In his closing speech to the jury Mr Ross described the evidence led by the prosecution as "unsatisfactory and contradictory."
Mr Ross added: "The correct verdict is a verdict of acquittal.
"It doesn't mean that Jagtar Singh has won and the family and friends of Ansar Singh have lost.
"It means you have stayed true to the oath you took as jurors."
Mr Ross told them not to accept evidence at face value but to probe for inconsistencies.
He added that if they accepted Singh was acting in self-defence they should acquit him of murder.
The trial, before Lord Beckett, continues.