Twelfth woman arrested over Smyllum child abuse claims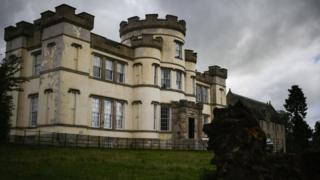 A twelfth woman has been arrested and charged in connection with historical child abuse at a former children's home in South Lanarkshire.
Eleven women and a man were charged last week following an investigation ordered by the Crown Office into Smyllum Park House in Lanark.
Some of the accused are former nuns but none of those charged has appeared in court yet.
Those arrested previously are aged between 62 and 85.
The age of the latest women to be arrested is unknown.
The home, which closed in 1981, was run by a Catholic order known as Daughters of Charity of St Vincent de Paul.
Police said a further four people were due to be reported to the Crown Office in connection with their investigation.
Smyllum Park took in more than 11,600 children over the course of its existence from 1864 to 1981.
It has been hit by claims of sexual and physical abuse and is being investigated as part of the Scottish Child Abuse Inquiry (SCAI).
Police Scotland said the allegations related to non-recent abuse of children.
The inquiry is being heard before High Court judge, Lady Smith. She is due to publish her report into the allegations surrounding Smyllum Park in the coming weeks.
The Crown Office and Procurator Fiscal Service (COPFS) said it had instructed police to investigate the allegations of abuse at care institutions across Scotland.