Small earthquake felt around Helensburgh and Rosneath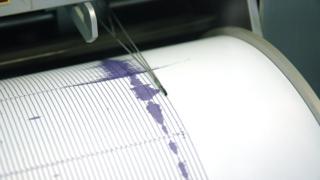 An earthquake with a magnitude tremor measuring 2.4 has hit Helensburgh and the Rosneath peninsula.
The tremor was recorded by the British Geological Survey's seismometer at 23:34 on Thursday.
Residents said they felt a very loud rumble and felt some slight shaking, however, there were no reports of any damage to people or property.
The largest known earthquake in Scotland occurred near Loch Awe in 1880, with a magnitude of 5.2.
David Galloway, a local seismologist from the British Geological Survey, said: "We received 20 reports since last night of the earthquake.
"We monitor 100 seismometers around the United Kingdom, 24 hours a day.
"Anything above background noise is detected and we can determine whether it is a true earthquake or something else, such as a quarry blast."
There are roughly 200-300 quakes in Britain every year, but the vast majority are so small that they are not noticed.