Woman 'told to give alibi' for Ansar Shah murder accused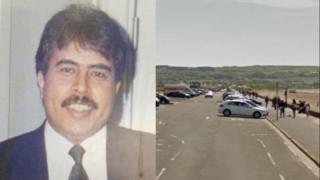 A woman claimed she was told to say murder accused Jagtar Singh was not at a fight in which a restaurant manager was stabbed to death.
He is one of the three men on trial for killing Ansar Shah in Ayr, South Ayrshire, in October 1993.
Sonya Higgins was giving evidence at the trial of Mr Singh, his brother Jaspal and their friend Balwant Singh.
They all deny murdering Mr Shah by repeatedly stabbing him outside the Armaan restaurant on Seafield Road.
Ms Higgins, 56, from Ayr, previously told prosecutor Richard Goddard that she saw Jagtar Singh - known as Tony - run at Mr Shah and stab him in the chest.
The High Court in Glasgow heard Ms Higgins was in a friend's house in the early hours of 4 October 1993.
She claimed Jaspal Singh and Balwant Singh were also there.
Mr Goddard asked Mrs Higgins: "Was there any discussion from Balwant Singh and Jaspal Singh about what you saw?
"Do you remember them saying to say Tony had not been at the fight?"
Ms Higgins replied: "Yes."
She then confirmed she did not find out Mr Singh was dead until the following morning.
Previous statement
Defence QC Thomas Ross asked the witness why she had not mentioned a member of staff at the Armaan, called Naeem, running towards someone with a kitchen knife.
Ms Higgins replied: "Because I didn't see him."
But the court heard she had told police in a statement, almost 25 years ago, that she had seen Naeem with a knife.
Asked about this statement, she said: "If I said it at the time it is correct, but I don't recall it now."
Mr Ross then said: "How would you rate your recall of what happened in the car park? Is it all over the place."
The witness replied: "Yes."
Jagtar Singh, 51, and Jaspal Singh, 54, from Slough, Berkshire, and their friend Balwant Singh, 58, from Dalmellington, Ayrshire, deny murdering Mr Shah.
Jagtar Singh also denies attempting to defeat the ends of justice by changing his clothing and fleeing to England.
The trial before judge Lord Beckett continues.