Art school fire residents make brief return home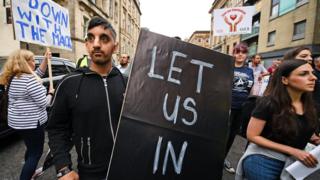 Residents living close to the fire-damaged Glasgow School of Art have been allowed back into their homes for the first time in 10 weeks.
People living on streets close to ruin of the Mackintosh Building were allowed into their properties for 30 minutes on Saturday.
A number of locals said they have been told they will be able to move back into their flats on Monday.
They cordon has been in place since the devastating fire in June.
More than 30 properties have been cut off, with residents unable to collect items including passports, car keys, medicines and clothes.
A number of protests have been held by those angry at being locked out of their homes.
Angela Simpson was among those briefly allowed back into her home in Dalhousie Street on Saturday to obtain personal possessions.
She said that the 10 weeks she had been living in temporary accommodation had been "like starting all over again with nothing".
"I have always been a stable person and I have stayed there for 28 years," she said. "I grew up in the west end of Glasgow and I didn't move house.
"So it's very, very upsetting and disrupting. It's just been horrible."
She also criticised the School of Art's handling of the situation and accused them of "neglecting" the residents of Garnethill.
A number of businesses were also able to gain access to their properties, including Biggars Music which has since set up a pop-up shop in Buchanan Galleries.
Earlier Gill Hutcheson, of Biggars, told BBC Radio Scotland that residents and businesses could have been allowed beyond the cordon earlier.
"The council have allowed the School of Art to have free rein in how they've brought the building down," she said.
"And because of that it has protracted the length of time that people have been out for and it could have been possible for them to bring the building down in a way that might have allowed people access - limited access perhaps - over the timeframe which would have diffused tensions and allowed people to minimise their loss.
"So I'd like to see them learning lessons from that."
Meanwhile the director of Glasgow School of Art, Prof Tom Inns, said he was "really pleased" residents were returning to their homes.
"We know the fire has been a huge challenge for our neighbours, especially those who have been displaced for the past 10 weeks," he added.
"Our teams have been working flat out to get to this stage, and are still working flat out to get the remaining work done as quickly as possible so that the final section of the cordon can be reduced."
"We are doing this work in the only safe way for the workers and also to make sure that there is no danger of damage to surrounding properties."
He said that the managed dismantling of the dangerous parts of the building was virtually complete, with the south facade and east gable safe.
Prof Inns added: "We have all been motivated by one overriding priority, to get the cordon on the south and east of the building reduced so that displaced residents can get home and affected businesses can get up and running.
"We hope very much that as people start to return to their properties this weekend this will be the beginning of getting the area back to normality."
On Tuesday, Govan Law Centre (GLC) confirmed it was seeking a judicial review of the risk assessment process before the cordon was erected around the site.
Govan Law Centre said 33 homes had been cut off and claimed 55 Sauchiehall Street businesses were at risk of going bust.
Mike Dailly, GLC solicitor advocate, branded the treatment of residents and local businesses as "unacceptable".
But Glasgow City Council said its priority was getting residents and businesses back to their properties safely.