Council faces legal action over Mackintosh building fire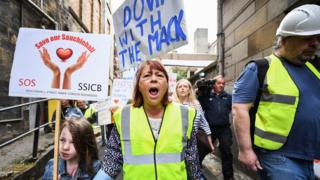 Glasgow City Council is facing legal action over the "unacceptable" treatment of residents and businesses after the Mackintosh building fire.
Govan Law Centre (GLC) confirmed it is seeking a judicial review of the risk assessment process before the cordon was erected around the site.
Lawyers are also considering suing those responsible for the blaze.
Glasgow City Council said its priority was getting residents and businesses back to their properties safely.
Garnethill residents and businesses have been unable to enter their homes for almost 10 weeks.
GLC said the council was responsible for risk assessment, the cordon and building control management.
A large cordon has been in place since 15 June and residents have even been denied short visits to collect passports, car keys, medicines and childrens' toys.
On Monday GLC lawyers held a meeting with representatives of Sauchiehall Street Inner Cordon Businesses and Pauline McNeil MSP.
And they warned that the situation was not sustainable.
Mike Dailly, GLC solicitor advocate, said: "Thirty-three households are displaced from their homes in Garnethill.
"Fifty-five Sauchiehall Street businesses - with 350 jobs - are under serious threat of going bust.
"All of these people are the lifeblood of the local community and they have been treated as an afterthought by Glasgow City Council."
Mr Dailly claimed officials were more interested in saving the Mackintosh building than the community of Sauchiehall Street and Garnethill.
He added: "Ordinary residents and local businesses are suffering and have lost a lot of money.
"It's unacceptable to be locked out of homes for so long.
"Residents and businesses no longer trust that the local authority is putting their needs first."
Mr Dailly also said the rights of locals and businesses had been overlooked.
He added: "The local authority exposes itself to judicial review and claims if it places the interests of the GSA before the community, and GLC will explore every avenue of challenge available to the local community."
A Glasgow City Council spokesman said: "The council has acted under Section 29 of the Building (Scotland) Act 2003 in order to protect life.
"Our priority remains getting residents and businesses back to their property safely."
Prof Tom Inns, director of The Glasgow School of Art, said: "We agree that enabling the community to return to their homes and businesses as soon as possible is the priority, which is why we are working seven days a week to make the Mackintosh Building safe and stable."
He confirmed the scaffolding on the east gable, which is critical to the stabilisation process, is due for completion in the next few days.
It is then hoped the council will reduce the size of the safety cordon on both Dalhousie Street and Sauchiehall Street.
Prof Inns added: "We have been in contact with groups representing the displaced residents and businesses keeping them updated on the progress of the stabilisation work, and we have also put individuals and businesses who have asked in direct contact with our insurer's loss adjusters.
"The Glasgow School of Art is very much part of Glasgow and the Garnethill community.
"We stand ready to help as much as we can when the security cordon is reduced and residents and businesses are able to return to their homes and premises, and like all those affected we are keen this happens as soon as practically possible."