Rangers fans arrested after violent clashes in Slovenia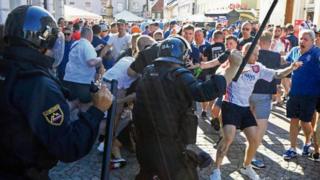 Six Rangers fans were arrested amid violent clashes with police before the club's Europa League qualifier in Slovenia.
Four supporters were also fined after the trouble in the build-up to the game against Maribor.
Local police said three Slovenian nationals were apprehended after the match, which ended 0-0.
Officers also confirmed a female Rangers supporter required hospital treatment for inhaling tear gas.
The first flashpoint occurred about 17:00 local time (16:00 GMT) at two squares in the city.
According to a police spokesman, "firm intervention" was required in one location to prevent a brawl among rival fans.
Footage posted online appears to show baton-wielding officers charging into crowds of fans outside bars.
Two Rangers supporters were later fined for "provoking fights with home supporters".
Police said a third Scot was fined as officers started to escort fans to the Ljudski vrt Stadium.
The supporter was accused of failing to stay within the cordon and insulting an officer.
Tear gas
The main flashpoint occurred a short time later.
A police spokesman said: "During the escort, at the Mladinska ulica street, six foreign (five Scottish and one Austrian citizen) citizens suddenly started to attack police officers with punches and different objects.
"The police officers subdued, arrested and detained them."
Criminal complaints will now be filed at the prosecutor's office against the four Scots and the Austrian.
It will be up to prosecutors to decide whether the accused will have to return to Slovenia to face legal proceedings.
During the trouble another Scot, who had a punch blocked by a police officer, was fined.
Two of the Rangers fans who were arrested were also fined, bringing the total number hit with a financial penalties to six.
Police said the travelling supporters were released at 06:00 on Friday.
Separately, a female Rangers fan was taken to the University Medical Centre in Maribor where she was treated for the effects of exposure to tear gas which had been fired to quell the trouble.
The woman was later released.
'Severe intoxication'
At the stadium, a Rangers supporter was detained for allegedly provoking a fight and ignoring police orders.
A police spokesman said: "The detention was later terminated, since he was taken to the University Medical Centre Maribor due to health problems and severe intoxication."
The final Scottish fan to be held was fined for failing to drop a bottle he was using to start a fight.
Three Maribor supporters were also in trouble on a night when their team were knocked out of Europe.
A 28-year-old man received the local equivalent of a football banning order for setting alight a "foreign flag" in the stadium.
Police said a 21-year-old was also hit with a payment order for breaching the terms of his previous ban from sporting events.
And a 26-year-old man who threw a bottle and damaged a bus carrying Rangers fans to the airport after the match will now face a criminal complaint.
In a separate incident, a probe is ongoing after a laser light was shone at the police helicopter, blinding the pilot and jeopardising the crew.
Rangers won the tie 3-1 on aggregate and will now join Celtic in the competition's play-off round.
Meanwhile, UEFA confirmed it has opened up disciplinary proceedings against Maribor following the third qualifying round second-leg match.
The club faces two charges, one of setting off fireworks and a second over the throwing of objects.
The case will be dealt with by the UEFA Control, Ethics and Disciplinary Body on 27 September.