Serial rapist warned by judge he may never be released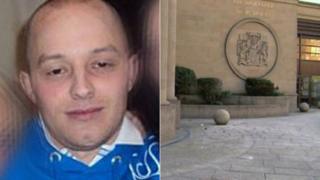 A rapist who struck again just two weeks after being freed early from prison has been warned he may never be released.
Andrew Anderson, 34, raped a woman as she slept and then went on to rape a second victim.
At the time, he was on early release after raping a 13-year-old girl in Kilmarnock, East Ayrshire in 2006.
Anderson has now been jailed for five years and placed on a lifelong restriction order.
Smirked
However, judge Lord Armstrong told him, following a trial at the High Court in Glasgow: "You must not assume you will be released at the end of that sentence.
"You will only be released when you are no longer considered a danger to the public."
Anderson, who is assessed as being a high risk to the public, smirked as he was led away to the cells.
Earlier defence solicitor advocate John Keenan told the court that his client continued to deny the offences.
'Indifferent and callous'
Lord Armstrong told the sex offender: "You continue to deny your guilt and take no responsibility for your actions.
"You are indifferent and callous towards the two women and have no understanding of the effects your actions have had on them."
Anderson was jailed in 2006 for the rape of the 13-year-old girl.
He was sentenced to six years in prison and an additional two years monitoring in the community after his release.
But despite having two years of his sentence still to serve, Anderson was released in 2010.
Anderson was later recalled to prison on another matter and ordered to serve the remainder of his original six-year sentence.
The court heard that when he was released in 2014, Anderson raped another woman some time between 2014 and 2015.
That victim said she had known Anderson since she was a schoolgirl and was frightened of him because of a campaign of sexual abuse going back 14 years.
She did not report what had happened to police immediately and only contacted them when Anderson showed up at her home with a hammer last year.
Detectives then questioned woman who had been in previous relationships with Anderson and uncovered another unreported rape dating from 2010, two weeks after his initial release from prison.