Former soldier jailed for assaulting baby at KFC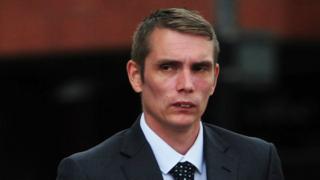 A former solider who assaulted a baby boy in a restaurant toilet has been jailed for 14 months.
David Parker, 33, from East Kilbride, inflicted bruising on the child's head and body at the KFC restaurant in Argyle Street.
Glasgow Sheriff Court heard Parker had been looking after the baby on 10 June, 2017, when the incident happened.
The attack emerged after the child's mother noticed the bruising on his thighs and head.
Two other men
Parker admitted assaulting the baby, who was four and a half months old at the time, by "inflicting blunt force trauma on his head and body by means unknown".
The court heard Parker was at the restaurant with two other men, including Kenneth Grant - a known sex offender subject to a sexual prevention order to stop him coming into contact with children.
Parker had taken the child to the baby changing toilet in KFC for 10 to 15 minutes.
Defence lawyer Stephen McQuillan said that while Parker was changing the child, he put his hand across the baby's face and mouth and held his head because it "wouldn't settle", causing "quite serious bruising".
When Parker returned with the child, witnesses said the boy was crying and "visibly distressed."
Parker later took the baby home to his mother and after discovering the injuries she called the police.
The baby was taken to Hairmyres Hospital in East Kilbride before being transferred to Wishaw General where his injuries were assessed.
After a full examination, the child was found to have bruising to both thighs, various bruises on his head and bruises on both cheeks.
When questioned by police Parker claimed he was with one friend at the time, whom he named only as Paul, but CCTV also showed him with Kenneth Grant, who was seen hiding the baby's face.
Mr McQuillan said Parker knew Grant had a sexual prevention order.
'Nobody more vulnerable'
He also said Parker had since lost his job and was "likely to be unemployable because of this".
The court heard Grant was upset at Parker bringing the child with him and later told officers "I was cursing and swearing a him. He knew I shouldn't be near kids."
Grant accepted he breached the terms of his Sexual Offences Prevention Order.
Parker admitted assaulting the baby and providing false information with the intent to pervert the course of justice.
Sheriff Johanna Johnston QC told Parker: "There's nobody more vulnerable than an infant.
"They cannot move, they cannot speak and for you to inflict injuries on that child, that is something you will have to live with for the rest of your life."
The court heard earlier that Parker had been suffering from post traumatic stress disorder as a result of combat while in the infantry in Iraq.