Police found rapist wearing trousers back to front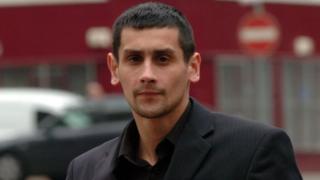 A convicted sex predator raped a woman and was then caught by police with his trousers on back to front.
Ranna Singh attacked his victim at his flat in Govan, Glasgow, in April last year.
Singh, 37, was previously jailed in 2007 for raping a woman at knifepoint in a country lane with his friend Mohammed Yousaff.
He now faces a possible life sentence after a second rape conviction at the High Court in Glasgow.
Singh had been with his latest victim at a nightclub in the city's Merchant City.
The jury heard how he lured the woman by telling her it was "safer" at his home rather than risk taking "a fake taxi".
They left in the early hours and got a taxi back to the flat he shared with his brother.
Trouser evidence
Prosecutors stated it was there that Singh raped the woman.
When officers turned up at his flat he denied having sex and instead claimed his brother had reported his victim to police for criminal damage.
Singh claimed that was why she had then made the rape accusation.
But jurors heard that officers spotted something significant about his trousers.
Prosecutor Allan Nicol put to him: "How did they get on the wrong way round?"
Singh denied this was the case and accused the police of telling lies.
Jurors also heard that the rapist struggled with police - and tried to film them at the flat.
The court was told Singh was already the subject of an interim sexual offences prevention order at the time.
This banned him from approaching or contacting prostitutes.
'Forceful and degrading'
Lady Rae remanded Singh in custody as sentencing was adjourned until next month in Edinburgh.
The judge told him: "You have been convicted of a serious charge involving violence towards a woman.
"You have a significant record including a conviction for rape in 2007.
"I am seriously considering an order for lifelong restriction.
"This is in view of the risk you clearly present to the public and particularly women."
Singh's previously raped a woman in a lane in Howwood, Renfrewshire.
Prosecutors branded the crime "forceful and degrading".
She believed she was going to be killed after being told: "Just do as we tell you or you are going to be murdered and put in the waterfront."
As well as being jailed, Singh and Yousaff were also ordered to be monitored for two years on their release.