Home Secretary urged to halt eviction of failed asylum seekers in Glasgow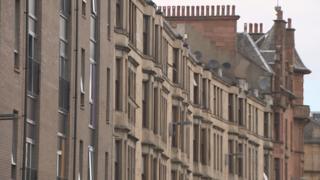 Politicians have called on the Home Secretary to stop the eviction of hundreds of failed asylum seekers.
Contractor Serco faces pressure to halt a programme of changing locks to force people out of their Glasgow homes.
Six individuals were due to be issued notices on Monday, with up to 300 people at risk of eviction.
Glasgow City Council leader Susan Aitken has sent a "strongly-worded" letter to Sajid Javid, signed by politicians from several parties.
In it she "calls on the Home Office to demand Serco ceases its lock change programme".
It condemns the Home Office contractor's action as "wholly unacceptable".
And it warns Serco's actions will "trigger a humanitarian crisis in Glasgow" and create "imminent risk of significant harm to a vulnerable group".
The letter was signed by councillors Susan Aitken, Mhairi Hunter, Jennifer Layden (SNP); Martha Wardrop (Green); Frank McAveety (Labour); and MPs Alison Thewliss, Patrick Grady, David Linden, Carol Monaghan, Chris Stephens and Stewart McDonald (SNP) and Paul Sweeney (Labour).
'Vulnerable tenants'
Refugee groups and public sector organisations have condemned the moves since details broke over the weekend.
Many of the failed asylum seekers are housed in properties leased from housing associations by Serco.
The Scottish Federation of Housing Associations (SFHA) said it had concerns about the eviction policy.
Sally Thomas, chief executive of SFHA, said: "Serco has been criticised in the past for poor practice in how it treats vulnerable tenants, and appeared to improve its policy and practice on how it interacts with asylum seekers who have had asylum claims refused.
"We are concerned now that Serco is in danger of putting profit before people, failing to work within the spirit of the law, and letting down vulnerable households in the support and inadequate time they need to make alternative housing arrangements."
Serco has said it is sympathetic to the plight of the residents but says it has been covering the cost of housing the tenants after their applications have been refused.
The company said it had been working with the city council on the process for the last four months.
Serco's Jenni Halliday said: "Serco has been providing housing free of charge to over 300 former asylum seekers who no longer have the right to stay in the UK.
"We have been paying for the rent, the rates, the heating and lighting, and insurance on their properties, in many cases for many months all at our own expense.
"Each of these former asylum seekers have been refused the right to stay in the UK by the Government and the Home Office does not fund Serco to provide them with accommodation."
The Home Office provides free, fully-furnished accommodation to asylum seekers while applications are being considered.
A Home Office spokesman said: "While an asylum claim is outstanding, we would not be seeking removal.
"Even if an asylum claim has failed, we will provide accommodation for those who would otherwise be destitute and who are temporarily unable to leave the UK because of a practical or legal obstacle.
"However, it is right that we prepare for someone's removal if they do not have a lawful basis to stay in the UK and they are not pursuing an appeal."