'No clean city': One woman's mission to clean up Glasgow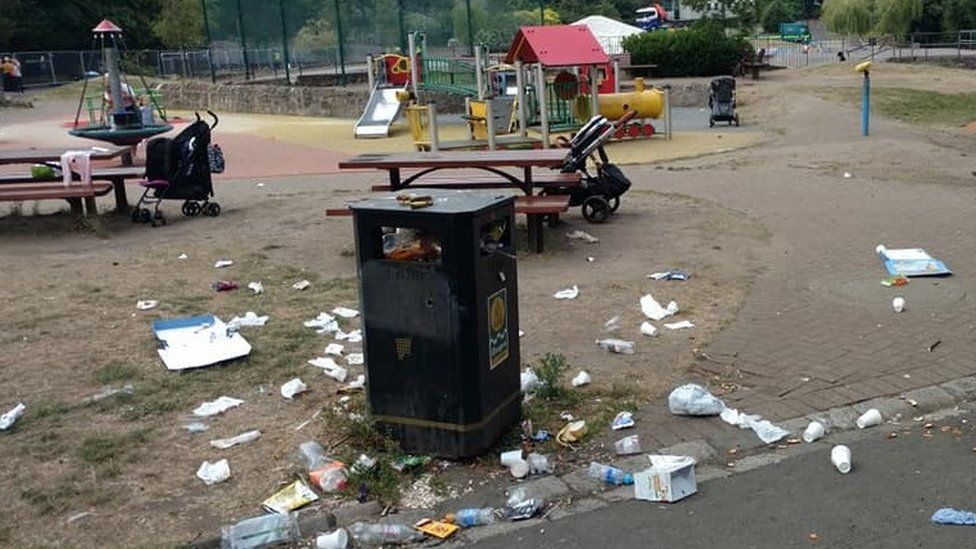 A woman who overheard American tourists talking about Glasgow being "covered in litter" has started a social media campaign to try to tackle the problem.
She said she wanted to "provoke" the city council into action.
Glasgow City Council said it had a huge team of staff "dedicated to keeping parks and streets in good order".
Speaking on the BBC's Good Morning Scotland radio programme, Louise, who lives in the Finnieston area of the city, said: "The litter problem in Glasgow has been growing for a number of years now and it's been frustrating me for a while."
She said two incidents last week prompted her to take action.
"I was at Glasgow Airport, dropping off my mother-in-law, and I overhead an American couple saying 'Glasgow is so nice, but it was covered in litter and there was rubbish blowing around the streets'," she said.
"That's the impression they were leaving the city with. They are going to go home and tell friends and family 'Don't go to Glasgow, it's dirty'.
"The second thing was, I took my little one, who is just learning to walk, to Kelvingrove play park and it was covered in litter, dangerously covered in litter. It was 10 o'clock on a Friday morning - there is no reason why someone couldn't have been round to clean it by then.
"I was worried about her falling on glass and other mothers were also complaining."
Louise, who has a background in online marketing, decided social media was a good way to "raise a little bit of awareness" and she said she has been "overwhelmed" by the response.
She posted photographs on the Facebook page and encouraged others to do the same.
The page has since seen pictures shared of dumping grounds and overflowing bins from Kelvingrove Park, Byres Road, Govanhill, Anderston, Dennistoun and the city centre.
Asked if her aim was to "shame" Glasgow City Council, Louise said: "I want to provoke them into doing something about it.
"It's the broken window theory. If there is litter out there and it is not being cleared up then people will see it as an anti-social place to live, not a nice environment, and then they will just add to it.
"It's the psychology of it - if it is not kept clean to start with, people are likely to add to that."
Louise said it was about educating people as well.
"You see people throwing things out their car windows, kids dropping wrappers on the streets. There needs to be a campaign and work in schools to encourage people to be cleaner. But the council must lead by example."
Glasgow City Council said it had almost 1,300 staff working on cleansing duties, including more that 500 staff "dedicated to keeping our parks and streets in good order".
It said it was investing £3m in 5,000 new, larger street bins which will be fully in place around the city by 2020.
A spokesman added: "Members of the street cleansing team are on duty 24 hours a day, seven days a week, all year round and lift around 11,500 tonnes of rubbish during the course of three million annual street bin collections.
"Where issues are brought to our attention we will do everything we can to respond quickly and appropriately.
"However, we are only involved in a proportion of commercial waste uplifts and private owners are ultimately responsible for any waste left on private property.
"Everyone also has a responsibility to ensure they dispose of their rubbish appropriately.
"It is unacceptable and anti-social to drop litter and anyone caught doing so will be issued with a fixed penalty fine."
Related Internet Links
The BBC is not responsible for the content of external sites.