Ice cream van driver guilty of parking rage attack on 81-year-old man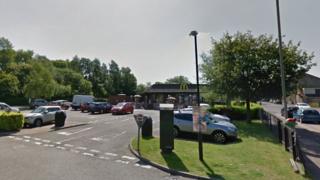 An ice cream van driver has been found guilty of assaulting an 81-year-old man in a parking rage attack.
Steven Campbell, 45, shoved James King so hard he slumped to the ground and suffered a fractured hip.
Mr King had gone to help a young woman who complained about Campbell parking over three spaces at a McDonald's in Kirkintilloch, East Dunbartonshire.
Campbell, of Hamilton, South Lanarkshire admitted assaulting the pensioner to his severe injury.
Glasgow Sheriff Court heard Campbell assaulted the Mr King after telling him: "I'm not moving for anyone."
'Different person'
The court heard the victim went to the gym three times a week before the attack and still worked as a delivery driver.
But he is now unable to do that and states he is a "different person" after his ordeal.
Campbell was remanded in custody pending sentencing next month.
The assault happened after Mr King left the McDonald's restaurant with his wife last December.
He noticed the restaurant's assistant manager was beeping the horn of her car to get Campbell to move his ice cream van.
Prosecutor Lucy Adams said: "She told Mr King she was trying to park her vehicle, but was being prevented from doing so."
The pensioner stepped in and asked an "irate" Campbell to move.
But, he yelled back: "What's it going to do with you?"
'Severe pain'
Miss Adams said Mr King and the woman were "terrified".
The fiscal added: "He approached Mr King and - with both hands - pushed him on the body with force.
"Mr King fell backwards onto the ground and Campbell got into van and drove away."
The injured pensioner was helped back to his feet and was initially able to go home.
As police tried to trace Campbell, Mr King's daughter told officers her father was still in "severe pain" days later.
It emerged he had suffered a fractured hip and the court was told the incident had left him badly affected.
The court heard when Campbell was held by police, he stated: "I can only apologise."
Sentencing was deferred for reports.