Protest over Glasgow council 'turning away' homeless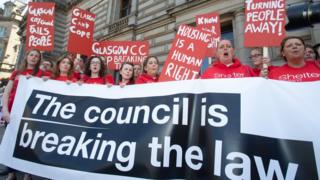 Protests have been held in Glasgow after the city council breached its legal duty to homelessness applicants more than 3,000 times in a year.
Government figures show the council repeatedly failed to offer temporary accommodation to those asking for help.
Shelter Scotland, which organised the rally, said the failures were "shocking and completely unacceptable".
Glasgow City Council said there was "significant pressure" on its supply of homeless accommodation at the moment.
Under the Housing (Scotland) Act 1987, people have the right to temporary accommodation while a local authority is considering their homelessness application.
The Scottish government maintains records of when councils have failed to offer this, with figures submitted by the local authorities themselves.
Of the 3,200 reports of applicants not being offered temporary accommodation in Scotland in the 2017-18 financial year, 3,025 were in Glasgow.
One household can make multiple applications to the council, so it is unclear how many people were affected.
Graeme Brown, director of housing and homelessness charity Shelter Scotland, said staff had been "inundated by people saying they had nowhere to go and that the council had turned them away".
He said: "Glasgow City Council should hang its head in shame. It is shocking and completely unacceptable that on more than 3,000 occasions last year, the city denied homeless applicants their rights by breaking the law.
"It cannot be right that one of the UK's largest councils can act unlawfully in this way and treat some of the most vulnerable people in our society with such disregard."
'Significant pressures'
Mr Brown claimed that the council was "gatekeeping" homelessness services, something he said there was "no excuse" for.
However, a spokesman for Glasgow City Council denied this was the case, saying the authority had to "manage" its available resources.
He said: "There are significant pressures on our homelessness accommodation service at present and, as Shelter is aware, we are working with the Scottish Housing Regulator and our range of partners in the third and housing sectors to address them.
"The council is not gatekeeping resources, but has to manage on a daily basis the availability of emergency, temporary and supported accommodation against needs.
"We ensure that all available accommodation is used to meet the needs of people who present as homeless. On the occasions when we are unable to meet immediate need, having exhausted all options, we ensure that we provide help as soon as we possibly can."