Glasgow hunger strike family granted leave to remain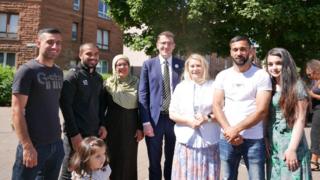 A family who staged a hunger strike outside an immigration centre have been granted leave to remain in the UK.
The Kamils said they had been waiting 18 years for a decision about their legal status.
Originally from Kurdish Iraq, the asylum seekers began their protest last Wednesday at the Home Office premises in Brand Street, Glasgow.
But on Thursday it emerged their campaign had been a success and they would all be allowed to stay.
Dastan Kamil 19, said: "We are absolutely over the moon and this decision gives us all an opportunity to move forward and be a bigger part of Scotland and the UK.
"My brother can focus on his career; my sister, on her studies and I can finally look forward to boxing professionally.
"My family wish to thank everyone who sent us messages of support; our lawyer; our MP, Paul Sweeney, and all those people who came to stand with us."
'Rebuilding our lives'
Daban Kamil, 23, said: "I hope to use this experience to help other families still waiting for a result on their case.
"We felt trapped for nearly two decades and, at times, our situation felt hopeless with no prospect of being resolved.
"That's a scary place to be.
"Now we will focus on rebuilding our lives and doing all those things we couldn't do before."
The youngest family member, 18-year-old Banez, had said she could not start her studies in law because of the situation.
And her older brother Daban, a mechanical engineering graduate, said he had had job offers rejected as a result.
The family's bid was supported by several politicians, including Paul Sweeney MP, Sandra White MSP, Pauline McNeill MSP, Humza Yousaf MSP and Anas Sarwar MSP.
'Systematic failure'
Mr Sweeney said: "It's incredible that after 18 years of confusion and delay, less than a month after I wrote to the Home Office to highlight the Kamil family's case we finally have a breakthrough.
"My intervention should not have been necessary and it points to a systemic failure in the immigration system.
"I have been impressed with the passion of the Kamil family and their supporters in righting this wrong.
"But there is a great irony that people with so much to offer this country have been treated so shabbily by its institutions."
Members of the Scottish Trade Union Congress (STUC) also issued statements in support of the family and offered them practical support.
Dave Moxham, STUC deputy general secretary, said: "Job cuts and mounting workloads coupled with hostile government policies on immigration mean families resort to hunger strike to get the attention they deserve.
"We were happy to support the Kamil family in their struggle to be heard.
"The trade union movement has always worked with other campaigns to welcome refugees and migrants and we are proud to continue that tradition with practical solidarity."
A Home Office spokeswoman said: "The family has been informed of the decision on their application."