Rape victim suffered 'humiliating and degrading' ordeal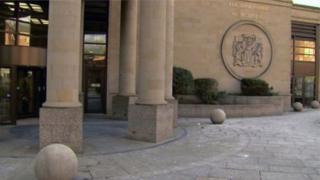 A rapist who subjected a 48-year-old woman to a "nasty and sustained attack" has been jailed for almost eight years.
Douglas Reid, 43, was told he will be supervised in the community for two years after his release.
He was convicted of attacking and raping his victim at a flat in Glasgow on 27 October 2017.
Reid was also banned from contacting or attempting to contact the woman or from entering the Glasgow street where she lives.
The High Court in Glasgow heard Reid pulled his victim's hair, repeatedly punched and kicked her on the head and body, placed her in a head-lock, repeatedly struck her on the body with a piece of wood and then tried to choke her with it, before raping her.
Judge Graeme Buchanan sentenced him to seven years and ten months.
He told Reid: "This was a nasty and sustained attack on your victim who suffered a humiliating and degrading ordeal.
"Given your vehement denial of responsibility I have concluded you present a danger to the public."
Defence counsel Greg Farrell said: "He continues to deny this offence."