Man found guilty over double shooting in Hamilton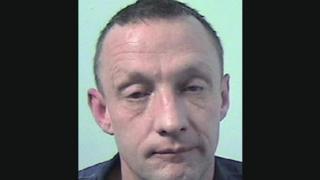 A 47-year-old man has been found guilty of attempted murder in a double shooting which saw a man lose an eye.
William Edwards was part of a three-strong gang who targeted James McSorley and Craig Burns in a lane in Hamilton in June 2016.
Edwards was caught months later in England, and boasted that he should get a medal for his part in the attack.
He then denied being involved, but was found guilty after a trial at the High Court in Glasgow.
Another man, James Allan, was jailed for 12 years in 2017 after pleading guilty to attempted murder in the case. Edwards will be sentenced in August.
Pellets lodged in head
Mr McSorley, 29, told the court that he had been attacked by "two boys with balaclavas and guns" while he was walking with Mr Burns and another man in the South Lanarkshire town on 27 June 2016.
Doctors found he had gunshot pellets in his brain "very close" to major blood vessels.
Mr Burns, 33, was left with 54 gunshot pellets lodged in his head and now has an artificial right eye.
When he was arrested in Croydon in October 2016 following a police appeal, Edwards was recorded at the police station saying "we should get a medal, but you don't get medals in these times".
However, when the case came to trial at the High Court, he said he "could not believe I had been arrested for something I had not done", and claimed the statement about a medal was a "drunken rabble".