Work to dismantle Glasgow School of Art building to begin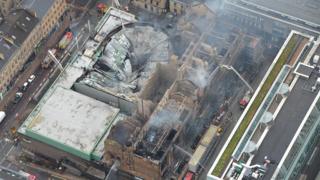 Work to dismantle the fire-damaged remains of the Glasgow School of Art Mackintosh building is due to begin soon.
It follows a warning by Glasgow City Council that parts of the structure could suddenly collapse.
The news emerged during a meeting of dozens of residents, who have been displaced since the fire on 15 June.
Council leader Susan Aitken told them that it could be up to three months before they can return to their homes.
Currently, the residents of 33 properties have been unable to access their homes since the fire.
Hardship fund
Ms Aitken told the Garnethill Displaced Residents Group meeting that details would be available of how to access a council and Scottish government-backed hardship fund - entitling each affected household to £3,000 - from Monday.
Residents attending the meeting said they were desperate for information.
Garnethill Community Council chairwoman Jane Sutherland said: "People need information so that they know where they're going to move next.
"The city needs to be in a position to say to people 'this is going to be two months, three months'.
"(It needs to) make the place safe so that folks can at least start getting on with their lives and making plans for how they manage when they haven't got access to their homes or their businesses."
Fire's casualties
Ms Sutherland said too much attention had been given to the architecture and the building, with too little recognition of the needs of people.
"All the emphasis has been on the building and saying that there's no casualties to this fire," she added.
"There are - there are loads of casualties to this fire: all the 33 households and the 350 employees of the businesses in the cordon."
Survey work of the art school building revealed that its south facade was the most seriously affected by the fire.
Building control officers also found that the structure's west gable had deteriorated since the blaze and that the east gable was moving outwards as a result.
Raymond Barlow, the authority's head of building control, warned: "With each passing day, a sudden collapse becomes more likely."