Fewer sunburn cases during heatwave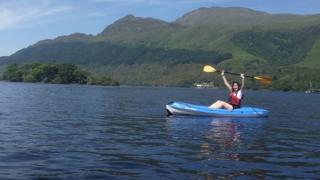 Initial figures for the west of Scotland indicate fewer people than usual have been treated for sunburn in June.
The numbers from NHS Greater Glasgow and Clyde suggest fewer people sought medical treatment, in spite of record temperatures.
Up to 27 June, 21 people were treated for the effects of heat and light, including heat stroke and sunburn.
In the same period of 2017, the total was 36 people.
During the past week, Glasgow experienced its hottest day on record.
Doctors are hopeful that people will continue to take precautions as the hot weather continues.
Director of public health Dr Linda de Caestecker said: "As the weather forecast is for more sunshine over the next few days everyone should take a few simple precautions, particularly the very young, the very old and those with chronic diseases.
"It is not just sun-burn, dehydration and hay fever which people need to be mindful of.
"The hot weather can also affect people with respiratory problems, particularly the elderly."