Displaced residents meet after Mackintosh fire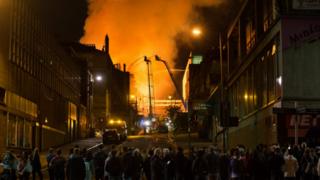 Residents and businesses affected by the Glasgow School of Art fire will hold a meeting later amid claims that they are not receiving enough support.
Since the blaze at the Mackintosh building on 15 June, residents from 33 properties have been unable to access their homes.
Traders have also warned that it could spell the end for some businesses.
Glasgow City Council and the Scottish government have set up a hardship fund for those affected.
They said each household would be eligible to receive £3,000 as part of the fund, while businesses would be offered rate relief.
Answer questions
However, local authority leader, Susan Aitken, has acknowledged that it remains unknown when people whose homes are businesses are within the current exclusion zone around the fire site will be able to return.
It comes as surveyors confirmed on Thursday that sections of The Mack would be dismantled as a matter of urgency because of the risk of the structure's sudden collapse.
The Garnethill Displaced Residents Group meeting is due to be held in the Multi-Cultural Centre on Rose Street from 14:30 on Sunday.
Organisers said building control officers would be on hand at the meeting to answer questions.