Police chase 'contributed' to road crash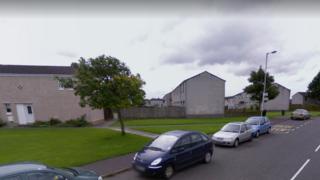 An unauthorised police chase contributed to a collision in which three people were injured, according to the police watchdog.
It found that two police officers were twice told that they did not have permission to carry out the pursuit of the stolen vehicle.
The car crashed into a parked car before hitting another vehicle in Holytown, North Lanarkshire, last July.
An eight-month-old baby, who was in the stolen vehicle, was not hurt.
The Police Investigations and Review Commissioner (Pirc) said the incident unfolded after two cars were stolen from the driveway of a house in Carfin.
Police intelligence suggested the suspects were local and driving towards Holytown.
Officers, including specialist traffic police, were sent out to search for the vehicles.
Whiplash injury
They were told that any spontaneous pursuit of either car would not be allowed - a decision taken by the area control room sergeant at an early stage.
When two officers on patrol spotted one of the stolen vehicles, control room staff twice instructed them that a pursuit was not authorised.
But on the second occasion the police driver was told he could "monitor" the car from a distance.
He appeared to interpret this as meaning he could follow the car until traffic officers were directed to the incident, the Pirc investigation found.
The police driver chased the stolen car for about 0.4 miles, before it collided with two cars in Dornoch Road.
Three of those inside the stolen vehicle were taken to hospital for injuries including whiplash, a laceration to the head, burns and bruising.
A spokesman for the Pirc investigations team said: "The actions of the police driver in pursuing the stolen car influenced the behaviour of the driver and contributed to the collision and subsequent injuries to those travelling in one of the vehicles.
"A series of recommendations have been provided to Police Scotland in relation to vehicle pursuits to mitigate against a similar incident happening again."