Restrictions ease around Glasgow School of Art fire site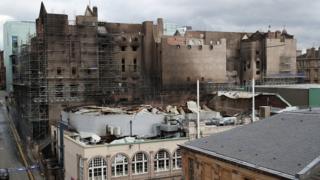 Some residents and business owners displaced by the fire that engulfed Glasgow School of Art are to be allowed to return to their properties.
Glasgow City Council said the cordon around the affected area had been scaled back to allow some access.
Since the blaze on Friday, there has been criticism that those living or working near the site had been given little detail about returning.
The council also said a base for face-to-face advice had been set up.
They said advisors and social workers would be based in the Dental Hospital on Sauchiehall Street to offer advice to those directly affected by the fire.
Traders on Sauchiehall Street had warned that the fire could spell the end for some businesses in the area.
While residents living within the exclusion zone had been unable to return home since the fire engulfed the iconic Mackintosh Building on Friday night.
The council said new traffic arrangements have been put in place for Sauchiehall Street and the Garnethill area.
Several road closures will remain, but local access to some streets will now be possible with a new one-way street created in Garnethill.
The arrangements mean restricted access to local and service vehicles will be provided to Renfrew Street and Sauchiehall Street up to the east and west sides of the cordon at Dalhousie Street and Scott Street respectively
Both Scott Street and Dalhousie Street will remain closed south of Sauchiehall Street to the unnamed lane that runs between the Reid Building at Glasgow School of Art building and St Aloysius College.
Local access to Holland Street, Pitt Street, Douglas Street, Rose Street and Sauchiehall Lane is now in place.
As part of the new arrangements, the one-way street on Buccleuch Street has been reversed, which the council said would enable traffic to move around Garnethill again and exit the area on to West Graham Street.
Residents in the Garnethill area will also have access to parking places that were previously blocked off by the wider cordon.
'Public safety'
The diversion for motorists travelling east on Sauchiehall Street remains in place. This takes drivers via Elmbank Street, St Vincent St, Pitt Street and West George Street before turning north into Hope Street.
Glasgow City Council leader Susan Aitken said the scaling back of the cordon was a "positive step".
She added: "The buildings affected by the fire remain at risk and measures must remain in place at this time to protect public safety.
"We are working extremely hard to get Sauchiehall Street and Garnethill moving again and this is the first step along that path.
"We will continue to review these arrangements on a street-by-street basis to ensure we are responding as far as we possibly can to the needs of residents and businesses in the area."
The council said people with properties within the exclusion zone and requiring assistance - including help with temporary accommodation and support for businesses - should call 0141 287 0416.
Council business advisors and social workers will also be based in the Dental Hospital on Sauchiehall Street to offer face-to-face advice to those affected by the fire between 10:00-16:00 weekdays.