Hotel plan to serve up midge burgers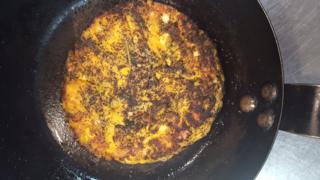 An Argyll hotelier has unveiled plans to serve burgers made with midges to his customers.
David Keat, who owns the Brander Lodge Hotel near Oban, said he would harvest the blood-sucking insects from the hotel's midge exterminator machines.
He said the burgers would be dipped in a coat of midges, like breadcrumbs, and a special secret ingredient added.
The plans are due to be considered by Argyll and Bute Council's environmental health department.
Mr Keat, who admitted the idea started off as a joke, said he came up with it after creating a vegan "midge fodder burger" using plants from the hotel's garden, which are a haven for the tiny insects.
He said: "If you are angry and you want to get your own back on the midges, you can eat them for a change, instead of them eating you."
He insisted that the idea of eating insects was becoming more mainstream.
"We just thought that, with ants and grasshoppers on menus across the world, Scotland has a ready supply of protein-filled midges, because of our location we have an ample supply of the wee blighters.
"There is a huge plague of midges this year so there are plenty at our disposal."
'Thoroughly tested'
He said he would be sending a specially made midge burger to the local health authority to be tested to ensure it was fit for eating.
Iain MacKinnon, environmental health manager for Argyll and Bute Council, said midge burgers were certainly "an unknown quantity."
He added: "In principle we have no objection, but it would need to be thoroughly tested and checked before it was served up to humans.
"You would need to make sure that the cooking process is able to deal with any bacteria and it would need to go to a food science lab, to make sure it's fit for human consumption."